Membrane Sandwiches make western blotting easier.
Press Release Summary: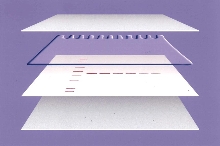 Preassembled Immun-Blot® PVDF/Filter paper sandwiches, consisting of polyvinylidene difluoride blotting membrane between 2 pieces of filter paper, are suitable for western blotting and protein binding assays. Sandwiches are precut to fit Bio-Rad precast gels plus handcast gels cast by customers using Mini-PROTEAN® or Criterion(TM) cells. Sandwich sizes are 8.5 x 13.5 cm for Criterion gels, and 7 x 8.5 cm for Ready Gels(TM).
---
Original Press Release:

Bio-Rad's New Preassembled Immun-Blot ®PVDF/Filter Paper Sandwiches Make Western Blotting Faster and Easier


HERCULES, CA, July 26, 2002 -Bio-Rad Laboratories has expanded its line of preassembled membrane sandwiches to include Immun-Blot PVDF/Filter Paper Sandwiches.

The pre-assembled sandwiches, consisting of one piece of polyvinylidene difluoride (PVDF) blotting membrane between two pieces of filter paper, are ideal for western blotting and protein binding assays.

Immun-Blot sandwiches are precut to fit Bio-Rad precast gels plus handcast gels cast by customers using the Bio-Rad Mini-PROTEAN® cells or Criterion(TM) cell. Sandwich sizes are 8.5 x 13.5 cm for (Criterion gels) and 7 x 8.5 cm for (Ready Gels(TM)).

"We know how valuable researchers' time is, which is why we're expanding this product line," explains Patricia Gee, Product Manager, Bio-Rad BioMaterials Division. "We're continually seeking ways to deliver more value to the marketplace."

Bio-Rad already offers preassembled nitrocellulose and Sequi-Blot PVDF blotting sandwiches.

Bio-Rad Laboratories, Inc. (www.bio-rad.com) is a multinational manufacturer and distributor of life science research products and clinical diagnostics. It is based in Hercules, California, and serves more than 70,000 research and industry customers worldwide through a network of more than 30 wholly owned subsidiary offices.

For more information call 800-424-6723 (800-4BIO-RAD) or visit us on the web at discover.bio-rad.com

All trademarks and registered trademarks are property of their respective holders.

Editorial Contact:
Richelle Serrano
Senior Product Manager, BioMaterials
Bio-Rad Laboratories, Inc.
Phone: (510) 741-6763
E-mail: richelle_serrano@bio-rad.com

Please send reader inquiries directly to:
Debbie Schantz
Bio-Rad Laboratories, Inc.
2000 Alfred Nobel Drive
Hercules, CA 94547
E-mail: debbie_schantz@bio-rad.com


More from Agricultural & Farming Products