MEM2075 MicroSD Connector is light, slim, compact, and coplanar.
Press Release Summary: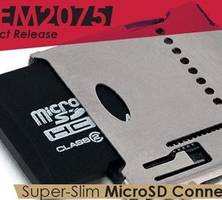 MEM2075 is a compact MicroSD with a height of 1.4 mm and length of 17.25 mm. With co-planarity of 0.08 mm, the connector operates at temperatures between -25°C to +85°C and has been tested to 5000 mating cycles. Models are made of stainless steel cover, have a latch with STM contacts, and can include optional PCB locating pegs. Applications range from portable electronics to wearable tech.
---
Original Press Release:
GCTs MEM2075 Push-Pushes Slim MicroSD Connectors to the Limit
GCT has released the MEM2075, one of the slimmest memory card connectors in the market with a push-push ejector type. The MicroSD connector has a profile height of just 1.4mm making it a super-slim option for engineers where there are space limitations and height is a defining feature in their designs. The product length with card inserted is also a mere 17.25mm, adding to its credentials.
As well as the compact form factor, co-planarity is less than 0.08mm, ensuring profile is kept to a minimum on a PCB. Four PCB retention tabs in "V" profile also give the MEM2075 maximum mechanical strength versus competing products.
The connector is available in a stainless steel cover and latch with SMT contacts. A card detection switch is present in normally open configuration, with PCB locating pegs as an option. Operating temperature is between -25°C to +85°C and the connector has been tested to 5000 mating cycles.
"The MEM2075 takes the conventional MicroSD connector and pushes the boundaries on the physical dimensions," commented Paul Hulatt, Product Manager GCT. "Being one of the slimmest connectors in class, it's a great addition to the GCT Memory Card Connector range and offers our customers greater flexibility with their designs where product height is critical."
In the face of device miniaturisation and the quest to have lighter, slimmer and more compact electronics, the requirement for smaller connectors remains strong. From portable electronics to wearable tech, the MEM2075 MicroSD connector is ideal for applications where space consideration is required.
More information about the new MEM2075 including specifications and drawings can be found at www.gct.co/connector/mem2075
About GCT
GCT (Global Connector Technology) was established in 1988 and is a leading manufacturer of standard and custom interconnect and cable assembly products. GCT offer great value and innovative products for markets as diverse as Industrial, consumer and medical.
Part of a privately held group of companies, GCT has facilities in Europe, USA & Asia. Production facilities are located in China, supported by a dedicated engineering team in Hong Kong.
GCT is committed to great service and helping customers with their design challenges wherever they design and manufacture. GCT's sales force is supported by a global catalogue and broadline distribution network.
GCT is an ISO9001 approved organization; its products are fully RoHS & Reach compliant.
More from Software