Melt Flow Resistance Tester offers accurate temperature control.
Press Release Summary: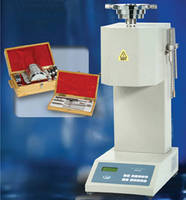 Used to test melt flow resistance (MFR) of thermoplastics, Melt Flow Indexer Tester (PT-460101) conforms to all National and International MFR standards and controls temperatures from 248 to 842°F within ±0.4°F via built-in microprocessor. Tabletop instrument, measuring 10.2 x 15.7 x 24.4 in., comes with all accessories and weights needed for maintenance and operation. Extruded material is automatically cutoff by built-in scraper mechanism at preset intervals, controllable to ±0.01 sec.
---
Original Press Release:

Melt Flow Indexer Tester



The Melt Flow Indexer is a NEW and AFFORDABLE tabletop instrument that tests the melt flow resistance (MFR) of a wide range of thermoplastics. The tester conforms to all National and International melt flow resistance standards, including BS EN ISO 1133 and ASTM D 1238. Any temperature within 248°F - 842°F (120°C - 450°C) can be accurately controlled.

Out-of-the-Box Operation
Testing melt flow resistance has never been so economical or easy to do! The Melt Flow Indexer is supplied complete with spare barrel and die, plus all the accessories and weights necessary for maintenance and operation. Nothing else to buy - just plug it in and start testing!

High Accuracy
The built-in microprocessor maintains temperature control to within ±0.4°F (0.2°C), with rapid ramp-up to set point. Extruded material is automatically cutoff by the built-in scraper mechanism at preset intervals, controllable to ±0.01 seconds.

Easy to Use
The clear multi-line LCD display and tactile-feedback membrane keypad allow fast, accurate input of test parameters and provide continuous display of setings during testing.

Features
· Auto Cut-Off feature
· Built-in microprocessor maintains temperature control to within ±0.4°F (±0.2°C), with rapid rampup to set point.
· Temperature fluctuation is ±1% of set temperature.
· Extruded material automatically cut-off by built-in scraper mechanism at preset intervals, controllable to ±0.01 seconds
· Clear multi-line LCD display and tactile-feedback membrane keypad allow fast, accurate input of test parameters and provide continuous display of settings during testing.

Specifications
Temperature Accuracy ±0.4°F (±0.2°C)
Temperature Control 248°F - 842°F (120°C - 450°C) can be accurately controlled
Instrument Dimensions 10.2" x 15.7" x 24.4"
W x D x H (26 cm x 40 cm x 63 cm)
Weight 60 lb (27 kg)
Electrical Requirements 110/220V 50/60 Hz (Please Specify)
BS EN ISO 1133 Plastics - Determination of the melt mass-flow rate (MFR) and the melt volume-flow rate (MVR) of thermoplastics
ASTM D 1238 Method A Standard Test Method for Melt Flow Rates of Thermoplastics by Extrusion Plastometer with Auto Cut-Off Feature

IMPACT / FLEXIBILITY
The Melt Flow Indexer is supplied with all the accessories and weights necessary for maintenance and operation. Nothing else to buy!

Included Weights: Quantity Size
1 600g
1 875g
1 960g
1 1000g
1 1200g
1 1640g
8 2000g

Included Accessories: Quantity
2 Piston Rods
2 tungsten Carbide Dies
1 Die Ejector
3 Replacement Cut-Off Knifes
1 Cleaning Tool
1 Charging Tool
1 Level Meter
1 Guide Bushing
1 Filling Funnel
2 Cylinders
1 Die Cleaning Tool

PT-460101 Melt Flow Indexer Tester................................................................$5,305.00

More from Agricultural & Farming Products