Meissner to Showcase UltraCap® H.D.'s SPD Vent Option at BDP Week, Huntington Beach, CA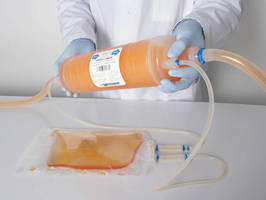 Meissner's SPD (Sanitary Process Design) vent option has been purpose designed for use within single-use systems applications. The vent features a full size 1/8" hose barb, compatible with tubing and affixment methods typically used in single-use systems, to support robust closed system sampling operations. The SPD vent's large knurled grip allows it to be easily manipulated by gloved hands.  Multi-turn flow initiation provides precise metering during operations where venting is taking place to a closed system, (e.g. a biocontainer).



Meissner will be showcasing the SPD vent option for the UltraCap® H.D. portfolio at upcoming BDP Week event, which runs March 30 - 31, 2015, at the Hyatt Regency Huntington Beach, Huntington Beach, California.  Meissner will be exhibiting in booth #132 for the event. 



Please contact Meissner for further information on the SPD vent and how it may be employed within your process.  Meissner manufactures advanced microfiltration products and One-Touch® single-use systems used in the sterilization of drugs, reagents, and other critical pharmaceutical and biomanufacturing applications. Meissner provides comprehensive qualification and validation services, documentation, and application support to optimize filtration and single-use fluid management systems. Meissner's global customer base is serviced through a worldwide network of personnel.  For more information, please call +1-805-388-9911 or visit www.meissner.com.



More from Packaging Products & Equipment