Meissner to Present at BPI West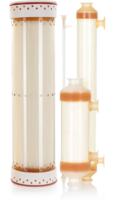 Meissner is looking forward to seeing clients at Bioprocess International's BPI West Feb 28 – March 2, 2023. This hybrid event will take place at the San Diego Convention Center, CA and online. Meissner will be presenting on an improved method for the characterization of ultrafiltration (UF) membranes for bioprocessing.
Dr. Thomas Lazzara, Ph.D., Director of Research & Development at Meissner, will discuss how the tighter classification of UF membranes using molecular weight can result in more reliable and consistent performance with less process variability. This presentation will be captured digitally and available for download from www.meissner.com following the event. For the full abstract visit Informa's site and to learn more about their tangential flow filtration product line, SepraPor® please visit their booth.
Meissner will exhibit in booth #205, where they will highlight the above-mentioned TFF product line, SepraPor®, along with their latest innovations, such as XytoFlex™, a biocontainer designed specifically for cell expansion applications. They will have representatives available to meet with attendees and answer any questions. They will also feature of their filtration portfolio, CryoVault® Freeze/Thaw Platform for bulk drug substance, and fill and finish capabilities.
BPI West is expected to connect decision makers across the entire biopharmaceutical industry. In 2023, they expect to have over 1000 global scientists, executives and technology leaders in attendance working in all phases of Bioprocessing. Speakers at this event represent some of today's leading scientists working across every stage of biopharmaceutical development and production. Attendees will hear over 125 case studies and industry updates all intended to accelerate biologics towards commercial success.
For more information, call +1.805.388.9911, or visit www.meissner.com. For more information on BPI West visit https://informaconnect.com/bpi-west/.
Related