Meissner to Highlight Single-Use Systems at INTERPHEX New York 2017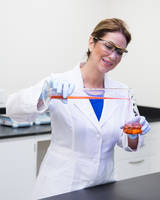 Meissner will be exhibiting at INTERPHEX New York, in New York City, NY, from March 21st - 23rd. Meissner will be hosting visitors in booth #2341 at the Jacob Javits Convention Center, during the event. Visitors will be able to participate in booth demonstrations of our filtration and One-Touch® single-use systems portfolio innovations.
The FluoroFlex® PVDF biocontainer portfolio, which expands single-use applications beyond the previous limits of PE-based biocontainer platforms to deliver a super clean biocontainer that is inherently pure, will be featured. This biocontainer portfolio, which contains no additives, stabilizers or processing aids, delivers an extremely low leachables and extractables profile.
Smart Solutions, Meissner's enabling technology for enhanced processing, will also be highlighted, including the fully automated Saltus® M200 mixing system. The QuaDrum® mixing portfolio, including our new 25 L table top option, which delivers enhanced recirculation based mixing functionality for process volumes between 25 L and 200 L, will be displayed. FlexGro® rocker-style biocontainer assemblies will be presented for cell cultivation processes.
Samples of Meissner's own BioFlex® TPE tubing, which has been optimized for single-use integration to offer robust performance over a wide range of operational conditions, including subzero applications, will be offered to booth visitors.
Meissner enables pharmaceutical and biopharmaceutical manufacturing by providing advanced process solutions that encompass a wide variety of filtration media available in an unparalleled range of form factors, innovative single-use systems, and an expanding portfolio of automation platforms. Our team of experts provides support throughout the lifecycle of your process, from design engineering, to implementation and validation services, through logistics assistance. Meissner's global customer base is serviced through a worldwide network of personnel. For more information, visit www.meissner.com.
Meissner Filtration Products
1001 Flynn Road
Camarillo CA 93012
phone: 805-388-9911
url: www.meissner.com
contact:
Karisa Koenig
Director of Marketing
email: karisa.koenig@meissner.com