Megablock Wiring Hubs are intended for fieldbus applications.
Press Release Summary: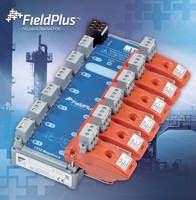 F300 Series is designed for general-purpose, Zone 2 and Division 2 hazardous area applications where high-energy trunk can be powered by fieldbus power supplies and ability to conduct live maintenance is desirable. Pluggable Trunk I/O connector allows replacement without breaking trunk connection to other devices on fieldbus segment, and F97 terminator may be mounted in Trunk out connection to provide termination when Megablock is located at end of fieldbus segment.
---
Original Press Release:

New Fieldbus Megablock Wiring Hubs Help to Reduce Network Costs



MTL Instruments, a division of Cooper Crouse-Hinds, today releases the new F300 Series of Megablock wiring hubs for fieldbus applications. The F300 Megablock is designed for general purpose, Zone 2 and Division 2 hazardous area applications where the high energy trunk can be powered by a wide range of fieldbus power supplies and the ability to conduct live maintenance - such as replacement of field devices in hazardous areas is desirable. Live connection and disconnection of fieldbus spurs without a gas clearance certificate is allowed with Ex ic and non-incendive field devices but where live-working of the spurs is not required, Ex d (flameproof) or Ex nA (normally non-sparking) field devices may be selected.

The new F300 Series features a pluggable Trunk In/Out connector allowing replacement of a Megablock without breaking the trunk connection to other devices on the fieldbus segment. The compact F97 terminator may be mounted in the Trunk out connection to provide termination when the Megablock is located at the end of the fieldbus segment. It can be removed when the segment is extended, thus ensuring correct termination.

Megablocks minimize hand wiring and allow individual devices to be added to and removed from the segment without disrupting network communication. The pluggable connectors are screw secured ensuring reliable connections even in high vibration environments. Attention to detail includes the +/S/- fieldbus connections to prevent intermittent connection to an adjacent terminal causing fieldbus failure. A green power LED on each unit indicates whether at least 10V of DC power is present and pluggable surge protection components for the fieldbus trunk and individual spurs are available as an option, reducing the installed cost of providing surge protection on fieldbus networks.

The F300 Series Megablocks are part of the recently created FieldPlus(TM) brand initiative from MTL that is designed to make fieldbus component selection as easy as possible based on the network architecture being employed. By visiting www.fieldplus.info, system integrators, specifiers and engineers alike can benefit from MTL's range of differentiated fieldbus solutions, providing assistance in selecting the optimum architecture to deliver customer value. The FieldPlus(TM) brand brings together MTL's range of fieldbus products enabling you to easily recognise a suite of products designed with the Industrial Networks values of Intelligence, Flexibility, Safety and Control.

About MTL
MTL Instruments, a division of Cooper Crouse-Hinds, is a world leader in the development and supply of electronic instrumentation and protection equipment for the process control and telecommunications industries. Many of the world's most critical processes are monitored, controlled or protected by MTL equipment and the Group is distinguished by the quality and reliability of its products, its global network of sales-and-support centres and its acknowledged position as a thought-leader in this high technology marketplace. With 20 dedicated sales centres in 13 countries and a further 131 MTL representatives in 69 countries, MTL's expertise in Intrinsic Safety, Industrial Networks, Surge Protection and Operator Displays/HMI is unsurpassed.

About Cooper Crouse-Hinds
Headquartered in Syracuse, N.Y., Cooper Crouse-Hinds integrates a comprehensive line of electrical and instrumentation products with expert support, industry insights and local availability to improve safety and productivity in the most demanding industrial and commercial environments worldwide. Cooper Crouse-Hinds manufactures over 100,000 products, including conduit and cable fittings; enclosures; plugs and receptacles; industrial lighting fixtures; signals and alarms; controls and electrical apparatus; commercial outlet boxes and hubs; and electronic components and protection equipment for process control branded MTL Instruments Group. Cooper Crouse-Hinds products are sold worldwide and meet all local and international code requirements. They are used in general construction or in harsh and hazardous environments across the globe, performing to the highest standard of safety and reliability. For more information, visit www.crouse-hinds.com.

About Cooper Industries
Cooper Industries plc (NYSE: CBE) is a global electrical products manufacturer with 2010 revenues of $5.1 billion. Founded in 1833, Cooper's sustained success is attributable to a constant focus on innovation, evolving business practices while maintaining the highest ethical standards and meeting customer needs. The Company has seven operating divisions with leading market positions and world-class products and brands including: Bussmann electrical and electronic fuses; Crouse-Hinds and CEAG explosion-proof electrical equipment; Halo and Metalux lighting fixtures; and Kyle and McGraw-Edison power systems products. With this broad range of products, Cooper is uniquely positioned for several long-term growth trends including the global infrastructure build-out, the need to improve the reliability and productivity of the electric grid, the demand for higher energy-efficient products and the need for improved electrical safety. In 2010 fifty-nine percent of total sales were to customers in the industrial and utility end-markets and thirty-nine percent of total sales were to customers outside the United States. Cooper has manufacturing facilities in 21 countries as of 2010. For more information, visit the website at www.cooperindustries.com.

For further information please contact:
Mr David Frost
Marketing Director
MTL Instruments
David.frost@cooperindustries.com
+44 1582 407506

Mr Ashley McNamara
Marketing Communications Manager
MTL Instruments
Ashley.mcnamara@cooperindustries.com
+44 1582 407269

More from Software