Medium Power Film Capacitors suit DC filtering applications.
Press Release Summary: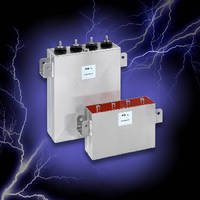 Available in cases sizes up to 36 L with specific energy up to 380 J/I, FFHV and FTHV Series offer dry, metallized alternative to oil-filled high-voltage capacitors. Both series are rated for 1,500–3,000 Vdc, with capacitance spanning 590–12,600 µF (±10%) and operating temperatures from -40 to +85°C. Supplied in thermoplastic resin-filled aluminum case, FFHV Series comes in heights from 9.06–24.02 in., while FTHV Series features hermetically sealed aluminum case and heights from 9.45–24.41 in.
---
Original Press Release:

AVX Releases Two New Medium Power Film Capacitor Series for DC Filtering Applications Spanning 1.5kV to 3kV



Available in large cases sizes up to 36L with high specific energy up to 380J/I, the new FFHV & FTHV Series capacitors provide a dry alternative to oil-filled high voltage power film capacitors, providing intrinsically safe, high reliability, & long lifetime performance



FOUNTAIN INN, S.C.  – AVX Corporation, a leading manufacturer of passive components and interconnect solutions, has released two new medium power film capacitor series designed for DC filtering applications, such as DC link or resonant filters, spanning 1,500 to 3,000VDC. Comprised of segmented, dry, metallized polypropylene film and completely sealed with both schoopage and resin, the new FFHV and FTHV Series capacitors provide a safe alternative to oil-filled high voltage power film capacitors, while delivering low dielectric losses, low ESR, high reliability, high ripple current, long lifetimes, robust signal protection, and controlled self-healing capabilities. Available in large case sizes up to 36 liters with high specific energy up to 380J/I, FFHV and FTHV Series medium power film capacitors are ideal for use in applications that prohibit the use of oil-impregnated capacitors, including power converters in traction, drive, renewable energy, and power transmission applications.



"Using our more than 30 years' experience with advanced film capacitor technology, in addition to extensive research and testing procedures, we were able to combine the benefits of controlled self-healing capacitor technology with thinner, pure polypropylene film, allowing us to provide our customers with a comprehensive range of both standard and custom, high quality, high reliability solutions for DC filtering applications," said John Gallipeau, power film field application engineer at AVX. 



Both FFHV and FTHV Series capacitors are packaged in unpainted, rectangular aluminum cases that feature mounting brackets and either two or four M8/17 female terminals or M12/30 male terminals. Both series are rated for voltages spanning 1,500–3,000VDC, capacitance values spanning 590–12,600µF (±10%), and operating temperatures spanning -40°C to +85°C. Both series are also designed to meet 100,000-hour lifetimes at rated voltage and 70°C hot spot temperature, and are qualified to the following standards: IEC 61071, IEC 61881, IEC 60068-2, and EN 45545-2. FFHV Series medium power film capacitors feature a thermoplastic resin filled aluminum case, are available with heights spanning 230mm to 610mm (9.06" to 24.02"), and are qualified to three additional standards (UL 94, NF F 16-101, and NF F 16-102). FTHV Series medium power film capacitors feature a hermetically sealed aluminum case and are available with heights spanning 240mm to 620mm (9.45" to 24.41").



For more information about AVX's new FFHV and FTHV Series medium power film capacitors designed for DC filtering applications spanning 1,500 to 3,000VDC, please visit http://www.avx.com/products/film-capacitors/medium-power-film-caps/ffhvfthv/  to access the FFHV and FTHV datasheet, which includes a capacitor selector guide, detailed lifetime calculations, and a customizable specification sheet for application-specific requests. For all other inquiries, please visit www.avx.com,  call 864-967-2150, or write to One AVX Boulevard, Fountain Inn, S.C. 29644.



About AVX

AVX Corporation is a leading international supplier of electronic passive components and interconnect solutions with 20 manufacturing and warehouse facilities in 11 countries around the world. AVX offers a broad range of devices including capacitors, resistors, filters, timing and circuit protection devices and connectors. The company is publicly traded on the New York Stock Exchange (NYSE:AVX).



For more information, contact:

John Gallipeau

Power Film Engineer, AVX

864-967-9311

John.Gallipeau@avx.com

More from Materials