Medium and High Power RF Loads operate to 18 GHz.
Press Release Summary: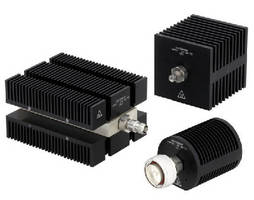 Offered in 25, 50, and 100 W models, RF Loads are available with many connector configurations, including male and female versions of SMA, N, TNC, and 7/16 DIN. Models rated to 25 and 50 W operate to 18 GHz, with exception of 7/16 DIN version, which is rated to 8 GHz. All 100 W loads also operate to 8 GHz. Manufactured with black anodized aluminum cooling fins for convection cooling, coaxial terminations operate from -55 to +125°C and require no additional heat sink.
---
Original Press Release:

Pasternack Releases Expanded Lines of Medium and High Power RF Loads



25 Watt, 50 Watt and 100 Watt RF Loads Up to 18 GHz New from Pasternack



Irvine, CA – Pasternack Enterprises, Inc., an industry leading manufacturer and global supplier of RF and microwave products, releases all new lines of medium and high power RF loads. These new RF loads (also referred to as RF terminations and dummy loads) are commonly used in military/aerospace, defense and test and measurement applications in order to protect radios and amplifiers under test from excess power in the system.



The new RF terminations from Pasternack come in 25 Watt, 50 Watt and 100 Watt models and are offered with many connector configurations including male and female versions of SMA, N, TNC and 7/16 DIN. The 25 Watt and 50 Watt models operate to 18 GHz, with the exception of the 7/16 DIN version, which is rated to 8 GHz. All of the 100 Watt RF loads operate to 8 GHz. A total of 24 new RF loads are being introduced in this release.



Pasternack's new medium and high power RF loads are manufactured with black anodized aluminum cooling fins for convection cooling. These coaxial terminations require no additional heatsink to dissipate excessive heat during use. Operating temperatures range from -55 to +125 degrees C, making them an ideal solution for a wide range of environmental conditions in the lab and in the field. The rectangular body can also be hard mounted using 4 threaded mounting holes.



"There are many medium to high power coaxial termination options available, but very few to 18 GHz", says Gerry Camacho, Vice President of Technical Marketing at Pasternack. "This new offering of medium to high power RF loads provides our customers very broad selections covering wide performance capabilities, allowing them to choose the exact model for the desired application from one supplier."



The new medium and high power RF loads from Pasternack are in-stock and available now. You can view the entire line of these new products by visiting http://www.pasternack.com/pages/Featured_Products/medium-and-high-power-rf-loads.htm directly.  Pasternack Enterprises, Inc. can be contacted at +1-949-261-1920.



About Pasternack

A leader in RF cable assemblies, adapters and connectors since 1972, Pasternack is an ISO 9001:2008 certified manufacturer and supplier that offers the industry's largest selection of RF, microwave and millimeter wave products available for same-day shipping.



Press Contact:

Shaun Gameroz

Direct Marketing Manager

Pasternack Enterprises, Inc.

17802 Fitch

Irvine, CA 92614

(949) 261-1920

shaun.gameroz@pasternack.com

www.pasternack.com

More from Cleaning Products & Equipment