Medical Grade Flexible Shafts come in 0.024-0.500 in. diameters.
Press Release Summary: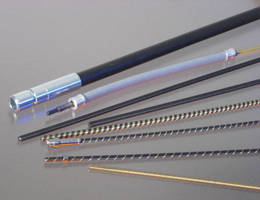 Combining torsional strength and minimal deflection with uniformly smooth rotational behavior, standard and custom flexible shafts, which are used to provide rotary motion on surgical tool at focal point of work being performed, ensure proper torsion and tactile feel on distal end for surgeon. Shafts are available in clockwise, counterclockwise, and bi-directional motion designs in Type 302, 304, 316, and 17-7 stainless steel as well as high-carbon steel. Several options are available.
---
Original Press Release:
Suhner Offers Small Diameter Medical Grade Flexible Shafts
Market leader in rotary flex shaft technology offering products in 0.024" to 0.500" diameters

Suhner Manufacturing, Inc. (Rome, Georgia) today announces the availability of standard and custom flexible shafts for rotary power transmission on a variety of medical, orthopedic, endoscopic and laparoscopic instruments.  In minimally invasive procedures, torsion stable rotary flexible shafts are vital for providing rotary motion on the surgical tool at the focal point of the work being performed.  To ensure the proper torsion and tactile feel on the distal end for the surgeon, Suhner flexible shafts offer torsional strength and minimal deflection with a uniformly smooth rotational behavior.

These rotary flexible shafts are available with options such as passivation, electropolishing and Teflon® coating and are provided as cleaned and assembled product, as needed, to suit the stringent applications of various medical procedures.  Suhner medical grade flexible shafts are an excellent means of providing precisely controlled rotary power transmission in a limited space.   On one current application, a Suhner flexible shaft measuring only 0.024" diameter is in use for endoscopic surgeries.  Other applications include endovascular aneurysm/aortic repair (EVAR) and thoracic endovascular (TEVAR) surgery, as well as stapling devices, orthopedic drills, surgical screwdrivers and laparoscopic devices.

Suhner rotary flexible shafts for medical instruments are available in clockwise, counterclockwise and bi-directional motion designs, in Type 302, 304, 316 and 17-7 stainless steel, as well as high-carbon steel, depending on the application.  Suhner engineering can work with OEMs to devise functional solutions for specific instrument, tool and device applications alike.  Medical grade rotary flexible shafts are available in various diameters from 0.024" to 0.500".

For more information, please contact:
Suhner Manufacturing, Inc.
43 Anderson Road SW
Rome, GA 30161
Cell:  312-731-7455
www.suhner.com
Attention:  Thomas Dunn, Key Account Manager
thomas.dunn@suhner.com
Related