Media Gateway Controller supports multiple interfaces.
Press Release Summary: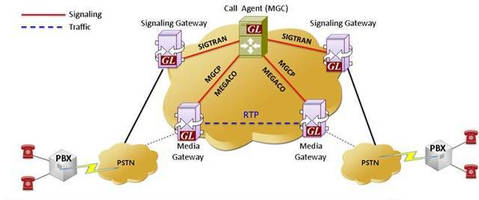 MAPS™ MGC can be configured to simulate end-to-end call between Signaling Gateway (SG) and Media Gateway (MG) by simulating SIGTRAN, MEGACO (with text- and binary-based syntax support), and MGCP interfaces in order to test hybrid TDM-IP network. Able to be integrated to end-to-end test environment for 2G, 3G, and VoIP networks, controller supports multiple commands and message templates and facilitates defining of variables for protocol fields.
---
Original Press Release:

GL Announces Multi-Interface Media Gateway Controller



Gaithersburg, Maryland, USA – GL Communications Inc., announced today its latest Multi-Interface Media Gateway Controller that can be configured to simulate end-to-end call between the Signaling Gateway (SG) and Media Gateway (MG) by simulating SIGTRAN, MEGACO and MGCP interfaces in order to test a hybrid TDM-IP network.



Speaking to the press, Mr. Jagdish Vadalia, a Senior Manager for product development of the company said. "In a hybrid TDM-IP network, when a call is originating from PSTN, SS7 signaling in the PSTN is translated to SIGTRAN by the SG.  TDM traffic is repackaged into RTP packets by the MG to forward the call to IP network.  A Media Gateway Controller (MGC) controls the various elements within the IP Network using SIP, MEGACO, and MGCP protocols.  The reverse may happen if the call is destined to PSTN."



He added, "MAPS™ MGC is a multi-interface simulator configured to handle signaling and call control between the SG and MG across the network. MAPS™ MGC simulates SS7 signaling procedure between the SGs on both the ends of the network while handling bulk traffic (RTP Media) between the MG terminals using MEGACO/MGCP signaling."



Mr. Vadalia further explained, "GL's Message Automation & Protocol Simulation (MAPS™) supports MEGACO and MGCP protocols which can simulate MGC to test Media Gateways with various types of calls. With the purchase of MAPS™ SIGTRAN, MAPS™ MEGACO or MAPS™ MGCP and RTP Core License, one can simulate transmission and detection of various RTP traffic such as Digits, Voice File, Single Tone, Dual Tones, IVR, FAX and Video. With regular RTP Traffic, the maximum simultaneous calls up to 2500, and calls per second (cps) up to 250 is achievable.  Almost all industry standard voice/video codecs are supported."



He further added, "GL's MAPS™ MEGACO and MAPS™MGCP are also available in High Density version (HD) and are capable of high call intensity (hundreds of calls/sec) and high volume of sustained calls (tens of thousands of simultaneous calls/platform)."



Important Features

•Simulates Media Gateway Controller

•Both text based and binary based syntax supported in MEGACO

•Supports MEGACO and MGCP protocols

•Can be integrated to end-to-end test environment for 2G, 3G and VoIP networks

•Fully integrated, complete test environment for MEGACO/H.248 and MGCP

•Supports commands such as Add, Subtract, Notify, Modify, Move, Service Change, Audit Value and more

•Supports message templates for each MEGACO (H.248) and MGCP message and customization of the field values

•Facilitates defining variables for the various protocol fields of the selected  MEGACO (H.248) and MGCP message type



About GL Communications Inc.,

GL Communications Inc, is a global provider of test and measurement solutions and has over the years worked with major telecom equipment vendors, service providers, and system integrators to meet the testing requirements arising at various stages of telecom products development life cycle.



GL offers a broad set of test solutions that help perform all types of testing on networks, from initial system design, to fine-tuning, troubleshooting, live deployment, and monitoring. The products are widely used to verify and ensure 'quality and reliability' of Wireless (4G LTE, 3G, 2G), SONET/SDH, IP, TDM, and PSTN networks.



GL core product development is backed by a strong team of R&D experts to match evolving market and technical challenges in a most cost-effective and innovative way.



Contact:

Shelley Sharma

Phone: 301-670-4784

E-mail: info at gl.com

More from Mechanical Power Transmission