Med-Voltage Controllable Fuse provides arc flash protection.
Press Release Summary: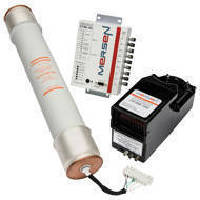 Designed to mitigate arc-flash hazard on low-voltage side of medium-voltage transformer, MVCF Medium Voltage Controllable Fuse provides normal short-circuit and overload protection while having capability to open on command. Fuse was developed in response to OSHA Code 29 CFR-1910 Subpart S, requiring employers to identify and analyze arc-flash hazards and provide adequate personal protective equipment.
---
Original Press Release:

Mersen Introduces the Medium Voltage Controllable Fuse



Breakthrough arc flash protection



NEWBURYPORT, MA  — Mersen is pleased to announce the next step in fuse technology: an intelligent, controllable fuse for medium voltage applications. The Mersen Medium Voltage Controllable Fuse (MVCF) provides arc flash protection with a plug-in retrofit to existing MV fuses at a low total cost and minimal installation downtime and ownership maintenance.



Mersen's Medium Voltage Controllable Fuse System is designed to mitigate the arc-flash hazard on the lowvoltage side of a medium voltage transformer. The industry's first fuse to provide normal short-circuit and overload protection while having the capability to open on command, this fuse is a cost-effective arc flash solution with minimal installation downtime.



Mersen developed the Medium Voltage Controllable Fuse in response to OSHA Code 29 CFR-1910 Subpart S, requiring employers to identify and analyze arc-flash hazards and provide adequate personal protective equipment (PPE). For many installations, the arc-flash energy is over 40 cal/cm2, which is too high for PPE, requiring owners to prevent access to those areas unless power is disconnected. This is typically unworkable and does not mitigate the hazard.



In a typical plant, the power feeding a 480V main breaker panel in an industrial facility comes from a local 15.5kV transformer protected by upstream fuses. The only protection between the load-side of the transformer and the line-sides of the main breakers is the MV fuse or CB on the line-side of the transformer.



The line-sides of the main low voltage breakers have potential for arc-flash energies well beyond the capabilities of any PPE. The reason for this is that the closest upstream protective device is usually a medium voltage fuse on the primary side of the transformer. This fuse is designed to provide short circuit and overload protection without opening during the normal transformer in-rush current.



"Mersen's Medium Voltage Controllable Fuse provides a unique approach to arc flash mitigation incorporating innovative and patented technology at low cost and unmatched ease of installation into conventional switch gear," states Rich Puffer, Mersen's VP General Manager, Standard Products, North America.



You can find additional information about Mersen's Medium Voltage Controllable fuse by visiting the product page on the Mersen website. For more information about the company's full range of electrical power solutions visit ep.mersen.com, email info.nby@mersen.com, or call 978-462-6662.



About Mersen

Mersen is a global expert in electrical specialties and graphite-based materials. Drawing on a century of experience—and an ongoing commitment to critical research in electrical safety— it provides industrial, commercial, and OEM customers with innovative products and unsurpassed technical support. Mersen Electrical Power provides a comprehensive line of current-limiting fuses (low voltage, general purpose, medium voltage, semiconductor, miniature and glass, and special purpose) and accessories, fuse blocks and holders, power distribution blocks, low voltage disconnect switches, surge protective devices, high power switches, heatsinks, laminated bus bars, and more.



For more information, call 978-462-6662 or visit ep.mersen.com.



PRESS CONTACT

Karen Schmuch

Marketing Communications Supervisor

karen.schmuch@mersen.com | 978-465-4919



More from Mounting & Attaching Products