Mechanics Truck accommodates 80,000 ft-lb crane.
Press Release Summary: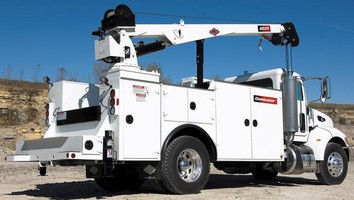 Available with 8025 telescopic crane, Dominator® IV is built with inverted A-frame floor structure and designed to promote access to tools and parts. Single-handle latch on tailgate has 3-point mechanism that minimizes amount of force required to open and close door, while shelf hanger bracket system enables quick adjustments of compartment shelves. Along with rain eaves on each side of truck, features include LED taillights and workbench bumper with 24 in. of work surface.
---
Original Press Release:

IMT Introduces First Mechanics Truck Designed for 80,000 ft-lb Crane



Garner, Iowa - Iowa Mold Tooling Co., Inc. (IMT) has made some new enhancements to the Dominator® IV mechanics truck to give operators more comfort and mobility around the vehicle. IMT has also announced a new telescopic crane - the 8025 - designed to accompany the redesigned truck body. The new Dominator IV mechanics truck is the first service body on the market that can accommodate an 80,000 ft-lb crane.

The new 8025 crane is rated 80,000 ft-lb and offers more lifting capacity than any other IMT telescopic crane. It's a perfect complement to the new Dominator IV unit, which is the largest IMT mechanics truck and is designed to perform field maintenance on heavy-duty equipment.

Some of the enhancements to the new Dominator IV mechanics truck include:
o Improved tools and parts access
o Patented inverted A-frame floor structure that reduces the weight of the body and allows the truck to haul more payload
o New patent-pending, three-point door latches that require less force to open and close the door
o Single-hand operation on the tailgate
o The addition of rain eaves over the compartment doors
o A patent-pending shelf hanger bracket system for quicker adjustment of the shelf layout
o A new workbench bumper that offers 24 inches of work surface with increased storage capacity, and an overhang at the rear for clamping
o Improved visibility of rear LED taillights
o Sidepacks designed for greater storage

IMT originally made these enhancements on three of their other Dominator mechanics trucks - the Dominator DSC20, Dominator I and Dominator II units - because of the company's commitment to listening to customer needs, and now IMT has incorporated these same successful features into the Dominator IV truck.

"The operator is almost always the person who knows best what makes a mechanics truck easier to use," says Tim Worman, product manager of commercial vehicles for IMT. "Customer input was critical to the enhancements we made to our other Dominator mechanics trucks, and we've now taken that same insight and applied it to the Dominator IV unit. Now we not only have the first mechanics body designed for an 80,000 ft-lb crane, but we also have a new user-friendly configuration for our customers who need to provide field service for heavy equipment."

The enhancements to the Dominator IV truck started with greater accessibility to tools - without losing any storage - by providing front vertical compartments with new single doors. IMT also incorporated two new, patent-pending features: a single-handle latch on the tailgate with a three-point mechanism that reduces the amount of force required to open and close the door, and an enhanced shelf hanger bracket system that enables quick adjustments of compartment shelves.

The Dominator IV mechanics truck also features the addition of rain eaves on each side of the truck to divert water away from the tops of the compartment doors. Operators will also notice the improved visibility of rear LED taillights. The new service body also features sidepacks designed for greater storage by being 2 inches deeper.

This new mechanics truck is ideal for heavy equipment applications, and operators can perform equipment maintenance in the field such as replacing or repairing hydraulic cylinders, track components, scraper blades, buckets, hydraulic pumps, engines and transmissions, just to name a few.

The new Dominator IV truck also comes with a lot of flexibility so customers can specify which crane best fits their needs. The IMT telescopic cranes that will fit on the Dominator IV body are the 5525 (55,000 ft-lb), 6025 (60,000 ft-lb), 6625 (66,000 ft-lb), 7025 (70,000 ft-lb) and the new 8025 (80,000 ft-lb). Customers may also choose between the 19-ft body, which is designed for a tandem rear axle chassis, or the 14-ft body, which is designed for a single rear axle chassis. These units also have the standard one-year IMT warranty and are eligible for the 36-month Diamond Shield(TM) warranty if sold with a qualifying vehicle package.

Iowa Mold Tooling Co., Inc., a subsidiary of Oshkosh Truck Corporation [NYSE: OSK], began in 1961 as a business providing new tread designs for recapping tires. The company has grown to become the leading manufacturer and supplier of service vehicles, cranes, hydraulic loaders and air compressors for tire, mining, construction, material handling and utility markets around the world.

Contact Name: Jennifer Oredson
Organization: Two Rivers Marketing
Title: Public relations
E-mail: jennifero@2rm.com

More from Material Handling & Storage