Mechanical Tilter minimizes risk of operator injury.
Press Release Summary: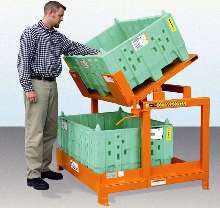 DMT Series Mechanical Tilt, designed to place parts within ergonomically-accessible reach of operator, requires neither electrical nor pneumatic power source making it easy to move from one work station to another. Capacities range from 500-4,000 lb with platform sizes up to 72 x 72 in. Fulcrum is calibrated to characteristics of containers being loaded/unloaded for soft landing when locking mechanism is released.
---
Original Press Release:

Mechanical Tilter For Ergonomically-Correct Loading/Unloading Announced By Pentalift


(October 2004) - A mechanical tilter, designed to place parts within ergonomically-accessible reach of the operator, has been developed by Pentalift Equipment Corporation, Buffalo, New York

The DMT Series Mechanical Tilt positions containers so that workers can comfortably load or unload parts, thereby minimizing risk of operator injury, improving production efficiency, and reducing the potential for damage to parts as they are positioned or removed.

According to Pentalift, its new Mechanical Tilt requires neither an electrical nor pneumatic power source, making it easy to move from one work station to another.

The operation sequence of the DMT Series Mechanical Tilt consists of three steps:

o a parts container is positioned by a lift truck onto the tilter when its platform is in the level, horizontal position;

o the lift truck forks are then placed beneath the rear of the platform and the platform is lifted, tilting the container until a self-locking mechanism secures the platform at 30 degrees of tilt;

o once the container is unloaded or loaded, the operator actuates a hand lever which releases the lock, allowing gravity to return the platform to the level position.

Pentalift states that the fulcrum upon which the tilt table pivots is calibrated to the characteristics of the containers being loaded/unloaded so that the platform experiences a soft landing when the locking mechanism is released.

Specifications of the DMT Series Mechanical Tilt include:

o capacities from 500 to 4,000 lbs;

o platform sizes up to 72" width x 72" length;

o hand lever tilt lock release with a spring return locking latch;

o corner stops on the tilt platform;

o lower level platform, with front & side stops, to hold a back-up container;

o lagging brackets welded to the frame.

Options include larger capacities and platform sizes.

For further information on the new Mechanical Lift, contact Pentalift Equipment Corporation, P.O. Box 1510, Buffalo NY 14240. Phone: 519-763-3625, Fax: 519-763-2894, E-mail: lifttables@pentalift.com, Website: www.pentalift.com

More from Services