Mechanical Tail Dock enhances jet maintenance safety.
Press Release Summary: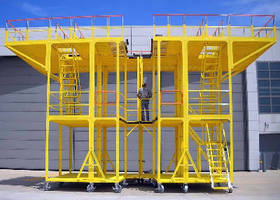 Designed for Gulfstream G450 corporate jet, maintenance stand can be adapted to fit individual customer requirements. Two-part design can be split into 2 halves, with each able to be wheeled and then locked into place after aircraft is positioned in hangar. Sliding conforming platform sections fill gap between fixed dock platform and vertical stabilizer curve, and drop down guard rails also allow for dock positioning while preventing contact with trailing edge of horizontal stabilizer.
---
Original Press Release:

New Generation Maintenance Stand for the Gulfstream G450



Factory Supply Inc. of St. Petersburg Florida is pleased to announce that they have installed the first, purpose built maintenance tail dock specifically designed for the Gulfstream G450 corporate jet at their customer's hangar based in Illinois.

Working in close cooperation with Gulfstream Aviation, a series of tail docks designed specifically for the G450, G550 and G650 corporate jets were developed. These are now available for production for our customers and can be specifically adapted to fit our individual customer's needs.

Our customer had taken delivery of a new G450 in January of this year (2009) and had experienced difficulty in accessing the rudder, vertical stabilizer and horizontal stabilizer for maintenance and inspection. Concerns over safety and efficiency both for the aircraft and personnel led to the call regarding our newly developed tail dock. A site inspection revealed that portable Man-Lifts were being used to reach the horizontal and vertical stabilizers. Although Man-Lifts are an excellent product, they do not provide a sufficient amount of workspace, tend to sway in use and must be constantly re-positioned around the aircraft

Some of the features of our custom dock include its two part design which allows the dock to be split into two halves with each half being able to be wheeled then locked into place after the aircraft has been positioned in the hangar. Sliding conforming platform sections fill the gap between the fixed dock platform and the natural curve of the vertical stabilizer, providing maximum safety during use. Drop down guard rails also allow for dock positioning while preventing contact with the trailing edge of the horizontal stabilizer.

Customer quote by the Director of Maintenance, "This dock exceeds our expectations and the quality and workmanship is excellent". References can be provided to qualified customers.

Factory Supply Inc.
5546 1st Ave North
St. Petersburg, FL 33706
Phone: 888-242-3045
Fax: 727-347-4830
www.factorysupply.net

More from Software