Mechanical Cone Crusher utilizes direct drive system.
Press Release Summary: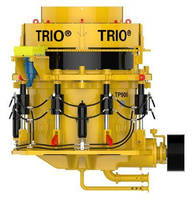 Targeting mining and construction aggregate market, Trio® Top Performance (TP) employs automation technology that ensures continuous performance. Crushing chamber angle, crushing stroke length, and speed help produce fine product through increased inter-particle comminution, while self-protecting features promote mechanical reliability under severe operating conditions and ensure safety of operator and equipment. Flow, pivot point, throw, and head diameters promote performance.
---
Original Press Release:

Weir Minerals Launches Trio® TP Cone Crusher Range



Weir Minerals announced the global release of their Trio® Top Performance cone crusher range to the Mining and Construction Aggregate market. Combining aggressive crushing action, high crushing force and high power, this new generation of top performing cone crushers takes the user to the next level of cone crushing.



"Throughout Weir Minerals, we strive to provide customers with the best possible equipment to meet their  crushing needs, which is why we developed the Trio TP cone crusher range," said Kurt O'Bryan, Global Product Manager for Crushing and Screening at Weir Minerals. "The new TP cone crushers operate at a higher speed than their predecessors which provides higher reduction with better shaped material."



These compact, robust crushers are built with advanced cone crusher automation technology to ensure continuous high performance and application versatility. All Trio® TP cone crushers feature a steep crushing chamber angle, a large crushing stroke and optimum speed to deliver a finer product through increased inter-particle comminution.



"Safety has always been the number one priority for Weir Minerals, which is why our Trio TP cone crusher range is designed with self-protecting features to help achieve high levels of mechanical reliability under severe operating conditions whilst ensuring the safety of both operator and equipment.



"Typically cone crushers are operated with high tension belt drives that are inefficient, require frequent maintenance and also become OH&S entanglement risk zones. Our engineers at Weir Minerals recognise the importance of energy efficiencies and reducing operating costs. With this in mind, they have designed a reliable direct drive option for cone crushers. The direct drive system can be combined with a Variable Frequency Drive to further optimise crusher performance, resulting in significant energy savings."



The Trio® TP cone crushers' unique combination of high flow, high pivot point, large throw and large head diameters results in superior performance.



"All of our Trio TP cone crushers are fully instrumented with advanced lubrication and hydraulic systems, allowing customers to monitor vibration, motion, temperature, flow and pressure."



For the customer, the advanced Trio TP® cone crusher range delivers high performance, safe and mechanically reliable crushing.



"At Weir Minerals, our reputation for quality engineering and exceptional service is second-to-none. Combining decades of experience with innovative designs and the highest quality materials, we believe that our Trio TP cone crusher range leads the industry in terms of reliability, productivity, ease of operation and maintenance."



The entire Trio® TP cone crusher range is backed by the Weir Minerals Services network,



For additional information contact your local Weir Minerals representative or visit www.trio.weir.



For product enquiries, please contact Fred Gross, Global Director Crushing and Separation Products on +1 720 366 9743 or fred.gross@weirminerals.com.



For media enquiries, please contact Marielle Kossen, Head of Marketing and Communications on +61(0) 400 910 149 or marielle.kossen@weirminerals.com

More from Machinery & Machining Tools