Mechanical and Digital Temperature Measurement from Palmer Wahl Instrumentation Group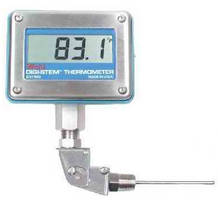 Asheville, NC - Founded in Cincinnati Ohio in 1836 by James Foster, Jr., Palmer Wahl has been a consistent innovator in temperature measurement since the 18th century. Developing the first thermometer made in America - the Foster Cup, for use in measuring the flash point of fuel oil - in 1852. Palmer Wahl lays claim to a host of other industry firsts, including the first red reading mercury in glass thermometer (1929) - still being produced today, the first and only NIST traceable miniature irreversible temperature recording labels (1960), FM approved portable digital infrared technology (1967), portable digital platinum RTD meters with interchangeable probes (1977), replaceable element bimetal thermometers (1993), self-checking digital platinum RTD meter (2006), and many others. Technology now encompasses not only time tested know-how, but state-of-the-art electronic instruments like Heat Spy Thermal Imaging cameras and self-checking RTD digital thermometer equipment. A family owned and operated company located in Asheville, NC, Palmer Wahl is ISO 9001:2008 certified, offering exceptional service, and quality products with unique features. www.palmerwahl.com

For additional information please contact us at sales@palmerwahl.com or call 1-800-421-2853, fax 828-658-0728. Write to Palmer Wahl, 234 Old Weaverville Road, Asheville, NC 28804.

About Palmer Wahl

Palmer Instruments, started as America's first thermometer company in Cincinnati, OH in 1836. Since that time, Palmer has steadily evolved through product development geared exclusively towards industrial process measurement, test and calibration. Wahl Instruments, founded in Culver City, CA in 1953, manufactured precision temperature instruments for industry, and developed the first portable digital platinum-RTD contact thermometer system. Since then, Wahl has introduced many technical innovations in precision portable temperature instruments.

Together Palmer Wahl, with 175 years of continuous product innovation, offers the finest selection of Industrial Instrumentation products in the world, and is uniquely qualified to provide application/technical support, installation, calibration services and product selection from an extensive line of the finest instrumentation products. For more information, visit www.palmerwahl.com.


More from Architectural & Civil Engineering Products