Mechanical Actuator is suited for tight spaces.
Press Release Summary: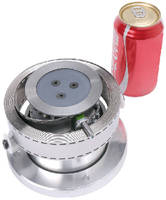 Measuring 100 x 150 x 150 mm, I-Lock Spiralift offers travel of 600 mm and load capacity of 225 kg and can be integrated into compact designs to ensure precise lifting as well as reliable and smooth operation. Principle of operation involves 2 stainless steel bands that engage as they rotate to form lift column, resulting in rigid structure. Self-contained electric motor provides pushing or pulling action with infinite adjustability.
---
Original Press Release:

The Latest Breakthrough in Lifting Technology: the I-Lock Spiralift



On the cutting edge of mechanical actuators, the I-Lock Spiralift combines real lifting solutions with an innovative compact design-truly, a superior and unique actuator!

The Spiralift principle of operation is quite simple: two stainless steel bands engage as they rotate to form a remarkably strong lift column resulting in a rigid structure. Its self-contained electric motor provides pushing or pulling action with infinite adjustability. The I-Lock Spiralift is an improved version of the Spiralift technology of which more than 10,000 units have been installed around the world. This technology was developed to handle large loads (up to 11,350 kg) and high stroke lenght (up to 12 meter). It is a well-proven technology.

So what is so innovative? The I-Lock's new pocket-sized dimensions! The new 100x150x150 mm model, shown here, has travel of 600mm and a load capacity of 225 kg. Since higher travel and higher capacity are possible, it is perfectly adapted to a whole new range of applications.

When tight spaces are many and current lifts are bulky and awkward, the new I-Lock Spiralift is a much-awaited answer. With its unsurpassed ratio of deployed vs. collapsed height, the I-Lock Spiralift can be integrated into the most compact designs, ensuring precise lifting, reliable and smooth operation.

To learn more about the I-Lock Spiralift and how it can facilitate your projects, visit the Paco Spiralift website at www.pacospiralift.com, write to Info@spiralift.com or give us a call! We'll gladly show you how the I-Lock Spiralift is the best solution for your application.

About Paco
Paco is a leading designer and manufacturer of advanced electromechanical equipment for industrial materials handling and scenic applications. The company was established in 1960 and employs 85 professionals in engineering, fabrication, sales and administration.

Paco markets its products and engineering services throughout North America, Europe and Asia. The company holds more than thirty patents and is recognized for innovation through research and development in response to market needs.

Paco Spiralift - Innovative solutions for the materials handling industry
Paco Spiralift inc., a Paco Group company, provides innovative solutions for the materials handling industry using its patented Spiralift technology, an ideal solution for lifting requiring precision, compactness and low maintenance.

Our extensive experience, combined with Spiralift's unique advantages, enables us to propose cost-effective and efficient materials handling and lifting solutions. We also supply qualified market leading integrators, lift solutions manufacturers and materials handling OEMs with Spiralift actuators. Our products are ideally suited for a wide range of applications including automotive, aerospace and medical equipment industries just to name a few.

More from Electronic Components & Devices