Measuring Systems are offered in contact and noncontact types.
Press Release Summary: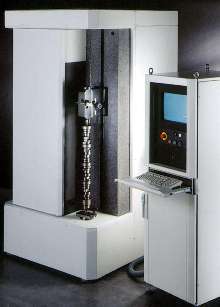 Opticline noncontact metrology system measures form, dimensional, and positional tolerances of symmetrical parts in submicron detail. CCM and CFM Gageline multipoint contact systems measure crankshafts and camshafts, and can measure 20 parts/hr using Windows NT measuring software. Flexible shaft gaging system accommodates shaft sizes from 0.2 to 270 mm dia, 1 to 1,500 mm long with measuring accuracies to ±1 micron.
---
Original Press Release:
New Flexible Shaft Measuring Systems Demonstrate Speed, Versatility, Accuracy

Detroit Precision Hommel will demonstrate its optical CNC shaft gaging systems, both contact and noncontact, at Quality Expo 2003, Booth 15018.

Contact and noncontact measuring systems designed for shape recognition are increasingly used together during the production process, completing even the most complex measurements within the production cycle. Suitable for use in production cells or lines, these high-speed systems can help reduce machine qualification times while providing the ability to assure 100% quality control.

DPH Opticline optical noncontact metrology measure form, dimensional, and positional tolerances of symmetrical parts in submicron detail and recorded almost instantly. Highly accurate telecentric camera measuring systems and specially adapted calibration processes permit measurements of the most complicated workpiece geometry, allowing users to measure cylindrical and eccentric shaft with equal effectiveness.

The CCM and CFM Gageline multipoint contact systems measure crankshafts and camshaft with unsurpassed consistent accuracy and speed. Short evaluation times, user-friendly software and rapis reporting are key advantages. Designed for integration into the production process, these systems can fully measure up to 20 parts per hour or more with user-selectable measuring points along the length of the workpiece.

The fully flexible shaft gaging systems accommodate a wide range of shaft sizes from 0.2 mm to 270 mm diameter, 1 mm to 1500 mm long with measuring accuracies to +/- 1 micron. Filters are used to assure highly reliable measuring results, and to eliminate sources of error, including dirt and swarf. Manufacturing checks, automatic tool correction, initial sample measurement, machine setup, are typical applications for this family of versatile gages.

These systems combine length and roundness measurement with a digital image projector, making it practical to inspect up to 150 different features in less than a minute. Contour, diameters, length, roundness, concentricity, cones, angles, flatness, parallelism, eccentricity, stroke, threads, and more, in submicron detail can be recorded during a single pass of the optical measuring head. The gages, driven by Windows NT measuring software, provide a powerful alternative to conventional shaft measuring techniques that is faster, more accurate and more complete.

"The measurement and analysis software, consisting of about 150 measurement modules for a range of measuring functions, is simple to program," said a company spokesman. "A measuring program can be assembled from function macros, so repeated measuring tasks can be accomplished very quickly. And the flexible design of the measurement modules, the consistent use of common standards, the measurement technology, and the use of standard operating systems makes it possible to create the optimum solution for each application," he added.

In operation, the workpiece is clamped into the gauge between centers. A rotary drive with integral angular encoder is located in the headstock. A measuring slide, consisting of a camera with CCD diode lines opposite a high-power LED (light source), travels axially along the shaft, registering digitally up to 2000 measurements per second. Profiles of the workpiece are reflected onto the diode lines, and an image-processing system analyzes longitudinal and rotational measurement data. This information is converted to X/Y measurements, the angle of rotation is included to assess deviations in shape, and measurement results are then documented or used to instantly correct the manufacturing process.

Once the workpiece has been scanned, a part profile is displayed on the large CRT, at which point the part may be analyzed, documentation can be output, data can be stored and graphed for later reference, or transferred.

Detroit Precision Hommel is a ISO-9002, QS-9000/TE, QOS, EN ISO 9001 certified Ql-certified designer and builder of standard and custom gaging solutions, delivering turnkey fixture, functional, automatic and value-added gaging to customers worldwide.
More from Services