Measuring Machines provide quality data management.
Press Release Summary: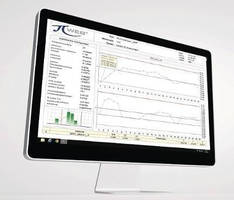 Available as standard feature for all measuring machines, ZEISS PiWeb collects measurement and inspection data from production floor and measuring labs, identifying source of production problems. Program generates targeted, group-specific analyses at push of button. Managers receive overview of repeat, critical deviations from tolerances. Users can customize selection of data and analyses and how it is displayed. Scope of functionality of ZEISS PiWeb can be scaled depending on size of company.
---
Original Press Release:

Quality Data Management with ZEISS PiWeb is Now a Standard Feature for All Measuring Machines



MAPLE GROVE, Minn., – With ZEISS PiWeb, ZEISS has now enhanced its software for quality data management. The basic version of ZEISS PiWeb is now available as a standard feature for all measuring machines. A specially developed version for mid-sized companies is also available - ZEISS PiWeb sbs.



The amount of measuring and process data generated as a result of the high level of automation in production is constantly increasing. "To remain competitive, companies today must produce even better products even faster. They can only do this by permanently monitoring potentially critical processes and influencing factors. With our ZEISS PiWeb analysis tool, we are helping them reach their goals," says Christoph Grieser, Head of Software and Retrofits. According to Grieser, three key properties make ZEISS PiWeb ideal for this task: the process analysis tool merges a wide range of data from various sources and analyzes in a short time. Furthermore, the solution can be easily adapted to the specific requirements of the user. This high degree of customization enables customers to tailor reports for all their needs. Finally, during the development and enhancement of ZEISS PiWeb, engineers focused on easy and intuitive operation. "The goal was to provide users with an analysis at the push of a button," states Grieser.



Flexible system solution for individual requirements

By collecting various measurement and inspection data from the production floor and measuring labs, ZEISS PiWeb quickly identifies the source of production problems. Data from various sources - from a slide gauge to the coordinate measuring machine to the measuring robot on the production line - is merged. For example, correction values for machine tools can be directly calculated. ZEISS PiWeb generates the analyses in a short time. If new values are added, the program updates the analysis in real time. "Data privacy has also not been neglected. This is ensured through a modern software architecture and security concepts. This has been verified by customers in the automotive, aerospace and telecommunication industries that have already tested ZEISS PiWeb," says Thomas Hassler, Business Development Manager. The scope of functionality of ZEISS PiWeb can be scaled depending on the size of the company and its requirements. Users can choose from four different solution packages: ZEISS PiWeb reporting, ZEISS PiWeb reporting plus, ZEISS PiWeb sbs and ZEISS PiWeb enterprise. Effective immediately, the base version of PiWeb reporting entry-level analysis software is included with the purchase of a measuring machine or with CALYPSO 2015 upgrades on existing machines. ZEISS PiWeb reporting plus is ideal for statistical data and process analysis beyond the individual measuring sequences. ZEISS PiWeb sbs is new. This package is specially designed for mid-sized companies that want to merge and analyze the data from multiple measuring systems, including non-ZEISS equipment and process data. ZEISS PiWeb enterprise is the most extensive package and is intended for multinational companies with multiple factories and is used by numerous car manufacturers for example.



However, the demands on a process analysis tool differ due to more than just the size of a company. Therefore, ZEISS PiWeb generates targeted, group-specific analyses at the push of a button. Unlike a machine operator, a manager does not require a multitude of single measured values. Instead, they receive an overview of repeat, critical deviations from the tolerances. If they want to know more about certain aspects, ZEISS PiWeb is ready to assist. Users can customize not only the selection of the data and the analyses, but also how it is displayed.



Ease of use

Based on Hassler's experience, users benefit from the intuitive operation of the software and minimal training requirements. After just a half-day, users are able to compile documentation, for example. "Regardless of what an analysis tool can theoretically do - success comes and goes with the ease of use," states Hassler. "Therefore, our engineers did everything in their power to combine an intelligent and fast analysis, and a high degree of customization with ease of use."



For more information visit www.zeiss.com/metrology  or call 1-800-327-9735.



Web Site: http://www.zeiss.com/metrology



More from Electrical Equipment & Systems