Measurement System features TeleStar(TM) optics.
Press Release Summary: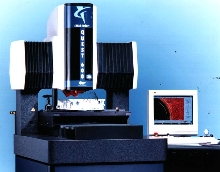 SmartScope® Quest 600 multi-sensor dimensional metrology system (video, laser, touch probe) performs precision measuring of small parts, carriers of small parts, or parts as long as 24 in. Its high contrast image has virtually zero distortion. Lens is telecentric and has collimated profile (episcopic) illumination that matches optic aperture over 10x range. Granite bridge construction provides stability over measurement volume of 18 x 24 x 8 in.
---
Original Press Release:

Patented Metrology Optics Improve Dimensional Measurement


ROCHESTER, NY, May, 2002 - Video measurement machines magnify images of parts in order to verify dimensions against design drawings. The quality of magnification can impact the accuracy of measurements, especially at high magnifications when measuring curved surfaces. New TeleStar(TM) optics from Optical Gaging Products, Inc. (OGP®), standard in the new SmartScope® Quest 600 measurement system, have a patented design that makes them excel at measurements that are difficult on other systems.

SmartScope Quest 600 is a multi-sensor dimensional metrology system (video, laser, touch probe) for precision measurement of small parts, carriers full of small parts, or parts as much as 24 inches long.

SmartScope Quest 600 is a high performance video measuring system that provides the high accuracy normally only associated with fixed lens systems, with the versatility and convenience of a zoom lens. According to Tom Groff, OGP Corporate Product Manager, "Our patented TeleStar® zoom lens was designed and built specifically for precision video metrology. It provides a phenomenally clear high contrast image with virtually zero distortion." Groff emphasized," The lens is telecentric and has collimated profile (episcopic) illumination that matches the aperture of the optics over its entire 1Ox range. It excels at measurement of parts that are troublesome to other optical systems."

SmartScope Quest 600 is a rigid granite bridge construction that provides stability over a measurement volume of 450x600x200 mm XYZ (18x24x8 inches). Its high speed, servo-driven stages provide high throughput without sacrificing accuracy. SmartScope Quest brings precision multi-sensor metrology to large parts. When equipped with laser and touch probe, this versatile 3D system provides an ideal solution for a wide range of measurement applications. Groff said, "This platform, the TeleStar optics, and the standard MeasureMind® 3D MultiSensor metrology software create a highly versatile system that significantly improves measurement accuracy, capability, and productivity."

SmartScope Quest 600 is one member of a family of premium multi-sensor metrology solutions. From the benchtop Quest 250 to the large volume Quest 650, there is a SmartScope Quest for most every precision application. Quest extends the line of measurement solutions from OGP. Software options for SmartScope Quest dovetail smoothly into MeasureMind® 3D MultiSensor, offering CAD import, contour analysis and fitting, and customized report generation and data export. Applications for SmartScope Quest include manufactured parts made of nearly any material from virtually every industry.

SmartScope Quest 600 can be seen in action at IMTS 2002 in booth # D4500. More information about SmartScope Quest 600 is available at http://ogpnet.com/quest46.htm.

Optical Gaging Products is a leading manufacturer of video metrology systems, optical comparators, laser surface scanners, and linear slides. Since its establishment in 1945, OGP has delivered thousands of measurement systems to quality-conscious manufacturing companies worldwide. OGP has facilities in Rochester, NY; Tempe, AZ; Singapore; and Germany. Optical Gaging Products is one of the Quality Vision International companies. More information about the company is available at phone (800) 647-4243, (585) 544-0400, fax (585) 544-0131, e-mail at sales@ogpnet.com, or web site www.ogpnet.com.

More from Packaging Products & Equipment