Measurement Specialties' ESP 32DTC Scanners Deployed in HIFIRE Missile Test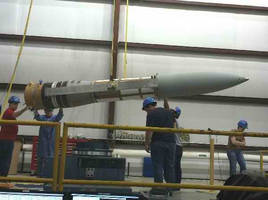 Measurement Specialties, Inc. (NASDAQ: MEAS) ESP 32DTC pressure scanners were recently deployed in a HIFIRE scramjet missile test designed to explore technologies required to achieve hypersonic flight. The missile was launched from the Pacific Missile Range Facility in Hawaii and climbed to an altitude of 100,000 feet while accelerating from speeds of Mach 6 to Mach 8. During the 12 second flight, the scanner monitored pressures outside of the vehicle as well as the inlet, combustor and nozzle pressures of the engine.

Dr. Mark Gruber, Principal Aerospace Engineer reported, "I'm also very happy to say that we collected a large amount of data from the experiment. I've only scratched the surface of this data set, but at this point it appears that the scanners performed very well in an extremely challenging environment." This environment is characterized by high vibration levels and rapidly changing temperature conditions.

Given the short testing time and the fact that the pressure scanners are destroyed as part of the test, "out-of-the-box" performance is crucial. Glen MacGibbon, Vice President of Sales and Marketing for MEAS affirmed that "The reliability of the ESP 32DTC pressure scanners guaranteed the highest quality performance which in turn, ensured adherence to time-sensitive project schedules."

The ESP pressure scanners themselves are miniature electronic differential pressure measurement units consisting of an array of silicon piezoresistive pressure sensors, one for each pressure port. The sensors are mounted on a common hybrid glass substrate using a proprietary technique which maximizes long term stability. The outputs of the sensors are electronically multiplexed through a single onboard instrumentation amplifier at rates up to 70,000Hz using binary addressing.

Measurement Specialties, Inc. designs and manufactures sensors and sensor-based systems. The company produces a wide variety of sensors and transducers to measure precise ranges of physical characteristics such as pressure, force, vibration, torque, position, temperature, humidity, fluid properties, mass air flow and photo optics. Measurement Specialties uses multiple advanced technologies - including piezo-resistive, electro-optic, electro-magnetic, variable reluctance, magneto resistive, digital encoders, thermistors, thermocouples, RTDs, capacitive, resonant beam, application specific integrated circuits (ASICs), microelectromechanical systems (MEMS), piezoelectric polymers and strain gauges to engineer sensors that operate accurately and cost-effectively in customers' applications.

For more information about Measurement Specialties and our products, e-mail pvg.cs.amer@meas-spec.com or visit us at www.meas-spec.com.


More from Materials