Measurement Software automates testing of mobile WiMAX devices.
Press Release Summary: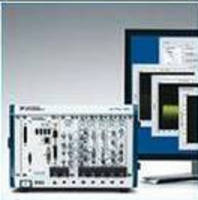 Based on PXI Express instrumentation powered by multicore technology, NI Measurement Suite for Mobile WiMAX can perform error vector magnitude, power, and spectral measurements. Software supports channel bandwidths from 1.25-28 MHz and FFT sizes 128, 256, 1024, and 2048, as well as all Mobile WiMAX modulation types with both convolution coding and turbo convolution coding. Software can also generate or analyze signals with up to 8 zones and 16 bursts.
---
Original Press Release:

National Instruments Introduces Measurement Suite for Mobile WiMAX to Provide Solutions for Testing Advanced Wireless Devices



New Suite Delivers High-Performance Tools to Reduce Test Time by up to 300 Percent

NEWS RELEASE - National Instruments today introduced the NI Measurement Suite for Mobile WiMAX (IEEE 802.16e-2005), a software suite that engineers can use with modular RF instrumentation for automated testing of Mobile WiMAX devices. With this software suite, engineers can perform Mobile WiMAX component and device testing faster than with traditional instruments, and with better accuracy and greater flexibility.

Based on PXI Express instrumentation powered by multicore technology, the suite can perform error vector magnitude (EVM), power and spectral measurements three to five times faster than traditional instruments. PXI WiMAX test systems from National Instruments also provide a low-cost, R&D-grade instrumentation alternative to traditional instruments. With a typical residual EVM accuracy of -46 dB at 3.5 GHz (-10 dBm), this test system can perform significantly more accurate measurements than alternative production test-grade instruments. Additionally, the suite provides engineers enhanced flexibility with the same equipment used for testing Mobile WiMAX devices to test hardware that complies with other standards such as Fixed WiMAX, wireless local area network (WLAN), GPS, and GSM/EDGE/WCDMA cellular standards.

"The NI Measurement Suite for Mobile WiMAX reflects the continued investment from National Instruments to provide test solutions for engineers developing next-generation wireless technology devices," said Eric Starkloff, vice president of test marketing at National Instruments. "With this new solution, we now can provide engineers the ability to significantly reduce their test cost by providing R&D-grade instrumentation that performs measurements three to five times faster than traditional solutions."

The Measurement Suite for Mobile WiMAX supports channel bandwidths from 1.25 to 28 MHz and fast Fourier transform (FFT) sizes 128, 256, 1024 and 2048, as well as all Mobile WiMAX modulation types with both convolution coding and turbo convolution coding. The Measurement Suite for Mobile WiMAX also can generate or analyze signals with up to eight zones and 16 bursts. Combined with the NI PXIe-5663E RF vector signal analyzer and NI PXIe-5673 RF vector signal generator, the measurement suite also provides continuous frequency coverage from 85 MHz to 6.6 GHz.

By including the NI Signal Analysis Toolkit for Mobile WiMAX and the NI Signal Generation Toolkit for Mobile WiMAX, the suite offers programming APIs and virtual instrument panels for signal generation and analysis in programming environments including the NI LabVIEW graphical system design platform. In addition to a LabVIEW API, the toolkits install with an equivalent C-style API for engineers using C, C++, .NET, or similar programming language.

The Measurement Suite for Mobile WiMAX supports multiple PXI hardware configurations to meet different application needs. A standard NI test bundle for Mobile WiMAX includes an NI PXIe-5663 6.6 GHz vector signal analyzer, NI PXIe-5673 6.6 GHz vector signal generator, NI PXIe-1075 18-slot high-bandwidth chassis and a NI PXIe-8108 dual-core controller to provide high-performance flexibility to a variety of automated test systems.

To read full specifications and learn more about the various configurations available for the Measurement Suite for Mobile WiMAX, readers can visit ni.com/automatedtest/WiMAX.

About National Instruments

National Instruments (www.ni.com) is transforming the way engineers and scientists design, prototype and deploy systems for measurement, automation and embedded applications. NI empowers customers with off-the-shelf software such as NI LabVIEW and modular cost-effective hardware, and sells to a broad base of more than 30,000 different companies worldwide, with no one customer representing more than 3 percent of revenue and no one industry representing more than 15 percent of revenue. Headquartered in Austin, Texas, NI has more than 5,000 employees and direct operations in more than 40 countries. For the past 10 years, FORTUNE magazine has named NI one of the 100 best companies to work for in America.

Pricing and Contact Information

NI Measurement Suite for Mobile WiMAX

Priced* from $5,999; Euros5,499; ¥882,000

Web: http://www.ni.com/automatedtest/wimax

*All prices are subject to change without notice

Contact Sales: http://www.ni.com/contact

E-mail: info@ni.com

More from Mechanical Components and Assemblies