Measurement Arms offer .0002 in. accuracy.
Press Release Summary: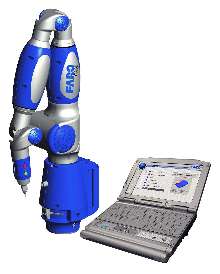 FARO Gage® Personal CMM(TM), with magnetic mount, allows measurement of parts and assemblies directly on machinery producing them. It automatically records all measurements and creates reports. Platinum FaroArm(TM) is offered in 4, 6, 8, 10, and 12 ft configurations. Software enables user to inspect and reverse engineer or perform CAD-to-Part-analysis on parts, fixtures, and assemblies. Both arms are internally counterbalanced for neutral buoyancy and fatigue-free usage.
---
Original Press Release:

FARO Unveils Portable CMMs with .0002" Accuracy


Lake Mary, Fla. - July 23, 2002 -- FARO Technologies, Inc. announced the release of the world's most accurate and advanced portable measurement arms in manufacturing history: The FARO Gage® Personal CMM(TM) and the Platinum FaroArm(TM). They represent the culmination of two decades of R & D with more than 10 new pending patents for innovations in accuracy, reliability and ease of use.

"The FARO Gage and Platinum FaroArm's .0002" accuracy now provide a clear alternative to traditional CMMs, hand tools and other portable inspection equipment," said Simon Raab, President & CEO of FARO. "Anyone, anywhere can now perform inspections with previously unheard of precision."

Both have similar features, but the FARO Gage, with its zero-training touch-screen icons, was created specifically to be simple enough for machinists and other shop-floor personnel to use.

"If they can use an ATM, they can use the Gage's touch screen," said Ken Steffey, Software Product Manager for FARO.

Setting up in seconds, the FARO Gage has a magnetic mount (a vacuum mount is optional) that allows machinists to measure parts and assemblies directly on the machinery producing them. It's also accurate and powerful enough for advanced measurement and statistical analysis like GD&T and SPC. In addition, it automatically records all of the user's measurements and creates comprehensive reports.

The Platinum FaroArm affords the same accuracy, but is also available in four-, six-, eight-, 10-, and 12-foot configurations. It represents the latest generation of the company's Control Station product line. Besides being twice as accurate as the Gold model FaroArm, the new design is up to 31-percent lighter and includes eight-hour on-board batteries. The portable platform has a universal 3.5" mounting ring for easy adaptability, while the base offers mounting options that afford "measure-where-you make-it" capability.

In addition to the different available sizes, what sets the Platinum FaroArm apart from the Gage is its advanced software that enables users to not only inspect, but also to reverse engineer or perform CAD-to-Part-analysis on parts, fixtures and assemblies. When you partner the .0002" accuracy with its adaptable 3D measurement technology and customized zero-training Soft-Tools (with or without CAD), the Platinum FaroArm is ideal for forming, molding, fabricating, casting and assembly facilities needing GD&T and SPC output.

Both the Gage and the Platinum FaroArm are internally counterbalanced for "neutral buoyancy" and fatigue-free usage. In fact, overload sensors prevent users from stressing the arm and help ensure precise measurement, making it "the only arm with feeling."

Despite the technological advances, perhaps the most remarkable thing about the portable CMMs is their cost-effectiveness. The FARO Gage sells for $19,900, while the Platinum FaroArm Control Station starts at $44,900.

"Instead of spending $100,000 on an inconvenient, fixed CMM, or settling for an overpriced, less-accurate portable CMM, they can use the Gage or Platinum FaroArm," Raab said. "They're the ideal solutions for manufacturing, engineering and quality control personnel looking to increase their facilities' productivity and profitability."

About FARO
FARO Technologies, Inc. (NASDAQ: FARO) and its international subsidiaries design, develop and market CAM2 systems and services for manufacturers of automotive, aerospace, industrial and consumer products worldwide. Principal products include the FARO Gage(TM), Gold and Platinum FaroArms, Control Station® measurement system, the Laser Tracker® and a CAM2® family of advanced CAD-based measurement and reporting software. FARO products provide manufacturers the freedom to measure production parts or complex assemblies on the shop floor. FARO's customers benefit through improved productivity and enhanced product quality because of reduced rework and scrap within the manufacturing process. A recognized leader of dimensional quality control products worldwide, FARO Technologies is ISO 9001 certified and Guide 25 approved. Learn more at www.faro.com.

More from Computer Hardware & Peripherals