Measure Your Materials Yield Value in a Snap with Brookfield's Redesigned YR-1 Rheometer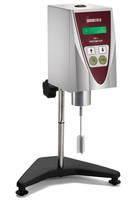 Middleboro, MA - Brookfield Engineering celebrates it's 75th Anniversary by introducing a new look for the increasingly popular YR-1 Rheometer, the low-cost instrument specifically designed to measure yield stress in fluids and semi-solids. Brookfield's revolutionary YR-1 Rheometer gives you the ability to measure your materials Yield Value in a snap! Simply select a test, lower the vane spindle into the product, press GO, and the instrument displays the result in a single shear stress number.

The simple-to-use YR-1 is a low-cost alternative to complicated, full-featured laboratory rheometers. It can be used by your technicians right on the production floor for rapid QC testing with excellent repeatability. The YR-1 is ideal for materials ranging from low to high viscosity, everything from juice with pulp to shortening. Typical applications include: greases, screen printing inks, creams and icings, polymers, and select personal care products.

The YR-1 comes with EZ-Yield software which allows for simple data collection on a PC. EZ-Yield allows you to set up 10 different test programs with an easy-to-use test parameter menu which can be downloaded and stored in the YR-1. Streaming data can be viewed in EZ-Yield and test data (torque vs. time and stress vs. strain) is displayed in both tabular and graphical formats.

The YR-1 Rheometer also comes with two Vane Spindles (V-72 and V-73) and a carrying case. Several additional vane spindles are also available.

For more information on the newly redesigned YR-1 Rheometer, visit
www.brookfieldengineering.com or call 800.628.8139 or 508.946.6200.

More from Agricultural & Farming Products