MEA-250A24C Series AC-DC Adapter meets IEC/EN 60601-1-2 4th edition standards.
Press Release Summary: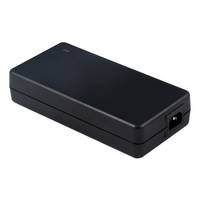 MEA-250A24C Medical AC-DC Desktop Type Adapter is designed according to EN 55011 standards for industrial, scientific and medical (ISM) radio-frequency equipment. Unit features +5 to +60°C operating temperature and can operate in altitudes up to 5000 m. Adapter comes with 2 × MOPP electric shock protection with a touch current of 0.1 mA and 0.3 mA in normal and fault conditions respectively. MEA-250A24C adapters are rated to IP22 ingress protection standards.
---
Original Press Release:
New Delta Medical AC-DC Adapter MEA-250A24C
Delta Electronics has added the new MEA-250A24C medical AC-DC desktop type adapter. The 24Vdc/10.42A output adapter complies to the latest IEC/EN 60601-1-2 4th edition requirements. It is certified for EMC standards according to EN 55011 for industrial, scientific and medical (ISM) radio-frequency equipment and EN 55032 for Information Technology Equipment (ITE) radio-frequency equipment. MEA-250A24C also has both medical and ITE safety approvals including UL/cUL and IEC 60950-1, CB certification and CCC approval. Designs are fully compliant with RoHS Directive 2011/65/EU for environmental protection.
With an average efficiency of 90%, the MEA-250A24C meets Efficiency Level VI. The operating temperature range is from +5 to +60 degrees centigrade, and operate in altitudes of up to 5,000 meters (16,400 feet). Other features include low touch current of 0.1mA under normal condition, and 0.3mA under single fault condition. The electric shock protection complies with 2 × MOPP.
Highlights & Features
Meet Efficiency Level VI
Safety Approvals to IEC 60601-1 3.1 Ed. & IEC 60950-1
Compliant with IEC 60601-1-2 3th and 4th Ed. Requirements
IP22 ingress protection rating
2 × MOPP Isolation, Suited for Type BF Medical Products
Please contact your local sales representative or distributor for product availability. New models are introduced on a regular basis. For product details and enquiries http://www.deltapsu.com/feedback, you can also visit www.DeltaPSU.com.
About Delta Group
Delta Group, founded in 1971, is the global leader in power and thermal management solutions. Our mission statement, "To provide innovative, clean and energy-efficient solutions for a better tomorrow," focuses our role in addressing key environmental issues such as global climate change. As an energy-saving solutions provider, Delta's businesses encompass power electronics, energy management, and smart green life. Delta has sales offices worldwide with R&D centers and manufacturing facilities in Taiwan, China, USA, Europe, Thailand, Japan, Singapore, India, Mexico and Brazil.
Throughout its history, Delta Group has received many global awards and recognition for its business milestones, innovative technology and corporate social responsibility. Since 2011, Delta has been selected as a member of the prestigious Dow Jones Sustainability™ World Index (DJSI World) for 3 consecutive years. In 2013 it was also included in the DJSI Emerging Markets Index and ranked first in six criteria among DJSI's World-leading Electronic Equipment, Instrument and Component Companies segment.
For detailed information about Delta Group, please visit: www.deltaww.com.
Related