MD133 Milling Cutter features chip breaker.
Press Release Summary: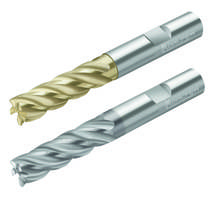 MD133 Milling Cutter comes in 0.25 to 0.75 in. diameters and cutting lengths of 5 × Dc. Unit is available in grades such as WJ30RD for steel and WJ30RA for stainless steels. Product is designed for small width of engagement and high depth of cut. Cutter is suitable for engineering, aerospace, energy, and the mold and dies industries applications. MD133 offers even wear pattern during entire cutting process.
---
Original Press Release:
New MD133 Supreme, a Dynamic Milling Cutter from Walter Boosts Productivity, Process Reliability, and Tool Life.
Walter initiates its new milling cutter line with the MD133 Supreme, a milling cutter that delivers superior results on a wide variety of materials and handles difficult-to-cut materials, and unstable conditions due to the machine, workpiece, or clamping.
The new MD133 Supreme milling cutter from Walter, designed specifically for dynamic milling, delivers increased process reliability, particularly during unmanned operation. It brings a heightened productivity thanks to a higher metal removal rate and a reduction in machining time. The first in Walter's projected line of dynamic milling cutters, the MD133 Supreme has diameters of 0.25 to 0.75 in. (6 to 20 mm) and cutting lengths to 5 × Dc. They are designed for operating parameters typical of dynamic milling, such as a small width of engagement, and a high depth of cut facilitated by a large cutting length.
A chip breaker guarantees short chips even when working with large cutting depths. This new milling cutter is available in two different grades: WJ30RD for steel (secondary application: cast iron) and WJ30RA for stainless steels (secondary application: ISO S, N). In addition to other benefits, the MD133 Supreme is a solution for applications with difficult-to-cut materials or unstable conditions (due to machine, workpiece, or clamping).
The new milling cutter's dynamic milling strategy makes full use of the entire cutting length, giving it a very even wear pattern. In addition, heat is dissipated via the chip as much as possible, which leads to an improved tool edge life. Its special features make the MD133 Supreme interesting for high volume production environments, but also to users with smaller batch sizes. With its high level of flexibility, thanks to its excellent match to the demands of dynamic milling, render this milling cutter suitable for the diverse range of tasks required from these operations. Typical application areas for the new dynamic milling cutter line are general engineering, aerospace, energy, and the mold and die industries.
Walter, a global leader in the metalworking industry with over 90 years of experience in precision cutting tools for milling, drilling, turning, boring and specialized tools, helps customers improve process reliability and increase productivity. With Regional Headquarters in Waukesha, WI, Walter markets its competence brands Walter Valenite, Walter Titex, Walter Prototyp and Walter Multiply through a strong network of distributors and field engineers across subsidiaries in the USA, Canada, Mexico, Brazil and Argentina.
More from Packaging Products & Equipment