McAlester Regional Health Center Improves Security with Accutech's Cuddles Infant Protection System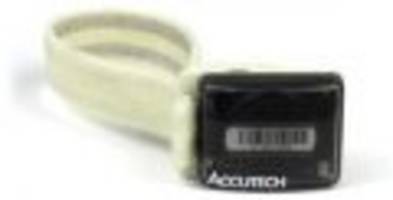 McAlester Regional Health Center has installed Accutech Security Solutions' Cuddles Infant Protection System to Improve Infant Security.
MCALESTER, OKLA. (PRWEB) OCTOBER 15, 2019 - McAlester Regional Health Center (MRHC) has installed Accutech Security Solutions' Cuddles Infant Protection System. The hospital chose Cuddles because of its extensive, integrated security, efficiency in admitting and discharging babies, improved reporting, and ability to obstruct infant abduction attempts.
"We now have a great system in place," said Megan Monks, Obstetrics Nurse Manager at MRHC. "We have no issues, no concerns about it not working correctly. We've already had very positive feedback from parents."
MRHC also selected Cuddles because of its ease of use, the soft and lightweight, self-adjusting band, and top-notch security features. The system installed at MRHC has several alarms in place that are activated in various ways, including if a Cuddles' band loses contact with the child's skin, if an infant tag gets close to any of the department's exit, if someone loiters too long at a door, or if a door is slightly open.
"The system offers a deterrent and helps security officers quickly respond to an abduction attempt and identify any potential threats," said Bryce Segotta, MRHC security officer. "If someone sets a door off, the alarm will light up and tell you where an attempt is happening."
Installation also included integrating the technology to shut down the entire wing in the case of an abduction attempt.
"When an alarm is activated, the entire floor of the hospital is shut down," Monks said. "Until we see what the problem is, and we actually shut the alarm off, you still can't get out."
Accutech Security has been manufacturing infant security solutions for almost 35 years. Cuddles Infant Protection systems can be seamlessly integrated with wired and wireless nurse call systems, ensuring notifications are at hospital staff's fingertips. Cuddles is in more than 500 hospitals worldwide and offers free 24/7/365 support.
For more information on Cuddles Infant Protection, visit http://www.accutechsecurity.com.
About Accutech Security
Founded in 1985, Accutech Security is a leading manufacturer of advanced electronic monitoring and security systems, marketed and sold under the Accutech brand. Accutech's specialized, security systems are actively installed in more than 5,000 healthcare facilities across the world. As a leading manufacturer of security systems for almost 35 years, Accutech continues to provide innovative, reliable and cost-effective solutions for the safety of babies, patients and residents worldwide.
Contact Information
Chris Konicek
Accutech Security
http://www.accutechsecurity.com
+1 (414) 423-1088 Ext: 1121
Chris Konicek
Accutech Security
http://www.accutechsecurity.com
2628808105
More from Electrical Equipment & Systems