MC Machinery Systems Exhibits Advanced Machining Technology at IMTS 2018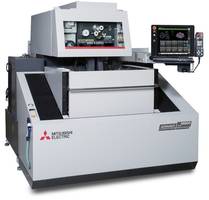 Chicago, IL – At the IMTS show on September 10-15, 2018, MC Machinery will display several new machines with the latest manufacturing technologies. As a reminder, this year MC Machinery has relocated to the South Hall booth #338158.
Attendees can expect to see a range of Mitsubishi wire and sinker EDM, automation, advanced milling and turning machines and live web demonstrations of remote360, MC Machinery's remote monitoring and support solution, several times each day. Highlight machines include:
Wire EDM
MV4800 with riser for large part production
MV1200-S + new M800 control
MV2400-ST + A/B table + new M800 control
MV1200-R + B-axis + new M800 control
MX600 + M700 control
Sinker EDM
EA8PS
EA12PS with M700
EAGLE800
Milling
Roku HC-658 II
Roku Android – high precision milling
MC-4000 – 5-axis machining
Eagle V5 – 5-axis machining
TV 500 – Drill/Tap/Mill
DM-800G – close tolerance for Mold & Die
Automation
Erowa Compact 80 – automation unit for EA12PS and Roku HC658
TV 500 automation with 6-axis Robot
Automation is a valuable component available for several Mitsubishi sinker and wire EDM, milling and turning machines. The MV1200-S, EA12PS, Roku HC658 and TV 500 can yield an even bigger productivity boost with an automation unit.
Attendees will also get to see the new M800 series 19-inch touchscreen control on the MV1200S and MV2400ST wire EDM. The M800 series control uses rotational and tilting functionality while showing job monitoring and important information in a single view, allowing production jobs to be completed quickly and accurately.
No matter what type of technology a company's advanced manufacturing job calls for, MC Machinery has a solution, all backed by award-winning service and support.
MC Machinery Systems' superior products are backed by industry-leading service and support. For more information about Laser, Press Brake, Wire EDM, Sinker EDM, Milling, High-Speed VMC, Turning, EDM Drill, or Consumable Products, contact MC Machinery Systems, Inc., 85 NW Point Blvd, Elk Grove Village, IL 60007, Phone: 630-616-5920 or visit www.mcmachinery.com.
Contact: Claudia Gutierrez
PR Account Executive
LoSasso Integrated Marketing
773.271.2100
More from Machinery & Machining Tools