Maxpro Technologies Granted U.S. Patent for Coning and Threading Machine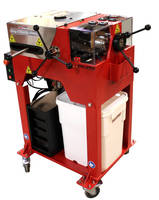 Fairview, PA - The U.S. Patent and Trademark Office has issued Patent No. 9,015,915 to Maxpro Technologies, Inc., for its Coning and Threading Machine.



"The patent granted was based on the unique way in which the end of heavy-wall, high-pressure tubing can be chucked in a collet, coned, faced and threaded using a coning head and threading head which are mounted on a carriage that moves laterally between three positions to cone and thread the tubing," says Paul Bowser, president of Maxpro Technologies.



The advantage to the customer is the ability to produce a high quality cone and thread on heavy wall high pressure tubing in a quick and efficient manner. 



The Coning and Threading machine is available for lease or purchase worldwide.  A video of the unit in operation is available at http://www.MaxProTech.com/MaxProVideo.html.