MaxLite LED Light Bars Featured on DIY Network's "Bath Crashers"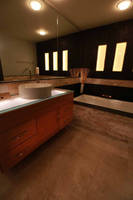 Energy efficient luminaires illuminate wall light boxes and countertops in bathroom installation

West Caldwell, New Jersey - More than 52 million American households have viewed MaxLite's LED Lightbars, which were featured on a recent episode of "Bath Crashers" on the DIY Network, from the makers of HGTV. MaxLite® is a leading global manufacturer and marketer of MaxLED®, an award-winning line of innovative LED luminaires and lamps using state-of-the-art LED technology.

MaxLite's LED Lightbars, which are offered in the MaxLED® family of products, were highlighted in Episode 404 of "Bath Crashers," the "Basement Bathroom Overhaul." The episode was first aired on Oct. 31, 2011 and will be re-running through March. The LED Lightbars, which were highlighted with on-air credit, were installed discreetly in three handmade light boxes that were installed on the bathroom wall. Four lightbars were installed around the perimeter of each light box, creating unobtrusive light sources to add a nice glow to the panes of glass in the center of the boxes. In addition to the lightboxes, the LED Lightbars were installed under the countertop of the bathroom vanity, which made the glass surface glow above. The host proudly boasted the long-lasting 50,000-hour life of the energy efficient fixtures.

The original bathroom was dark and dreary and shown with outdated furnishings. After the bathroom's demolition and reconstruction, the homeowners were brought to tears of joy after witnessing the bathroom's stunning makeover. The new sink, shower, hardware and lighting yielded a clean, cool and modern look.
This Bath Crasher's "Basement Bathroom Overhaul" episode will be aired again on the following dates:

o March 05, 2012 1:00 a.m. EST
o March 05, 2012 10:00 p.m. EST
o March 13, 2012 7:00 p.m. EST
o March 28, 2012 11:00 a.m. EST

To view a three-minute video clip of the episode, click on the following link: http://www.youtube.com/watch?v=keW8EAHi1-8

In coming weeks, MaxLite will introduce a second generation Plug-and-Play LED Lightbar, available in 6- and 12-inch lengths, for use in display case, under cabinet, cove lighting and toe kick applications in residential and commercial environments including hotels, retailers and restaurants. The new Plug-and-Play LED Lightbars are over twice as efficient as their predecessors, re-engineered with three times the lumen output for a more powerful light, and feature a new diffuser above the LEDs to minimize glare and deliver even distribution.

About DIY Network
The DIY Network, from the makers of HGTV and the Food Network, is the go-to destination for rip-up, knockout home improvement television. DIY Network's programs and experts answer the most sought-after questions and offer creative projects for do-it-yourself enthusiasts. One of the fastest growing digital networks and currently in more than 56 million homes, DIY Network's programming covers a broad range of categories, including home improvement and landscaping. The experts on DIY Network equip consumers with accurate how-to project instruction for their homes and landscapes. Whether hosting their shows, blogging on DIYNetwork.com or appearing live on national media outlets, the hosts are real experts who know their trade.

About MaxLite (www.maxlite.com)
Inheriting global manufacturing and marketing expertise that dates back to 1955, MaxLite was one of the first movers into LED technology in the industry. Committed to energy-efficiency as an ENERGY-STAR® Partner of the Year in 2009, MaxLite established the MaxLED® brand, an extensive line of indoor and outdoor lighting fixtures featuring innovative LED luminaires and lamps using the latest state-of-the-art LED technology. MaxLED® includes the award-winning Flat Panel collection, the best-selling outdoor lineup, plug-and-play light bars, and LED lamps.

Out of the company's two main distribution centers, ideally located in West Caldwell, New Jersey and Rancho Cucamonga, California, MaxLite ships products within the continental United States within one to three days on standard orders. Through MaxLite's innovative research and development capabilities in its California office, MaxLite continues to be at the forefront of energy-efficient technologies. For more information about MaxLite and its products, call 800-555-5629, fax 973-244-7333, email info@maxlite.com, or follow the company on Twitter at https://twitter.com/maxlitenewsroom.

More from Material Handling & Storage