MaxLite JA8-Certified LED Lamps Now Available for Title 24 Compliance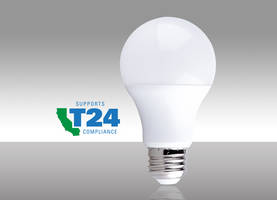 WEST CALDWELL, N.J. (December 1, 2016) – MaxLite, a manufacturer of energy-efficient lighting, has immediate availability of omnidirectional LED A-lamps that meet Joint Appendix 8 (JA8) requirements of the California Title 24 2016 building code, which takes effect January 1, 2017.
MaxLite's initial offering of JA8-certified lamps includes 60-watt incandescent equivalent A19 lamps in 2700K and 3000K color temperatures. Enclosed-rated versions of the same lamps are also available at launch. The LED lamps consume just 10 watts of power but look and light just like a traditional incandescent bulb, delivering 800 lumens of warm white light. Part numbers are 10A19DLED927/JA8 (2700K) and 10A19DLED930/JA8 (3000K).
JA8-certified lamps are required to be included in most new light fixture installations under Title 24 2016 standards for new residential, multi-family and hospitality construction. This certification means that the lamps have undergone rigorous testing and meet strict performance specifications laid out by the California Energy Commission: 90-plus color rendering index (CRI) with an R9 (saturated red) value of 50 or greater, less than 30 percent flicker rating, dimmability down to at least 10 percent, and 0.9 power factor. JA8 requirements are similar to those of ENERGY STAR®, but require even higher standards for many specifications.
"California has taken a leadership position in the area of energy-efficient lighting standards and codes, and as an industry innovator, we felt it was very important that MaxLite be one of the first manufacturers to make JA8-certified light sources ready and available before the new codes become effective in 2017," said Vice President of OEM Sales Chris Primous. "MaxLite remains committed to offering our customers in California, and elsewhere, the latest in energy-efficient lighting options that save energy, save money and help protect our climate."
For more information about MaxLite JA8-certified lamps, go to: http://maxlite.com/products/led-high-cri-dimmable-omni-a-lamp
About MaxLite (www.maxlite.com)
MaxLite has been committed to providing energy-efficient lighting products for more than 20 years. One of the first movers into LED technology in the industry, MaxLite offers an extensive line of quality, certified indoor and outdoor LED lamps and luminaires. A four-time recipient of the prestigious ENERGY STAR Partner of the Year Award for its industry leadership, MaxLite continues to be at the forefront of energy-efficient technologies through the innovative research and development capabilities of its New Jersey headquarters and California office.
For more information, call 800-555-5629, email info@maxlite.com.
MaxLite®
12 York Avenue,
West Caldwell, NJ 07006
Tel: (973) 244-7300
1-800-555-5629
Fax: (973) 244-7333
E-mail: info@maxlite.com
Web: www.maxlite.com
Contact:
Amy Silver,
973-244-7300 x111
Email: asilver@maxlite.com
More from Agricultural & Farming Products