MaxLite illuminates Oakland landmark Necklace of Lights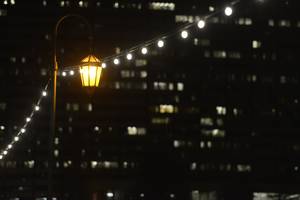 LED Marquee Lamps will save city more than $160,000 in energy and maintenance costs
WEST CALDWELL, N.J. (November 21, 2016) - The Necklace of Lights is a string of more than 4,000 lights encircling the 3.4-mile Lake Merritt waterfront in Oakland, California. The last major re-lamping of the 90-year-old landmark took place in 2006, when 11-watt incandescent bulbs were replaced with 3-watt cold cathode compact fluorescent bulbs. As the cold cathode bulbs aged, replacements became increasingly expensive and hard to find. The City of Oakland needed a solution that would deliver high quality illumination, energy savings and longevity. Working with local MaxLite distributor San Leandro Electric Supply, the city recently replaced the 4,500 cold cathode bulbs with MaxLite 2.5-watt LED Marquee Lamps.
By switching from cold cathode fluorescent bulbs to LED, the City of Oakland will reduce energy consumption at the Necklace of Lights by 17 percent, saving 9,855 kWh and $2,538 in energy and maintenance costs annually. The City's total savings will equate to $164,919 over the 50,000-hour lifetime of the lamps.
"Oakland is committed to saving resources for a brighter future that everyone will enjoy," noted Allen Law, electrical services manager for the City of Oakland. "We do our best to reduce our carbon footprint, because in every decision we make, we must think of the future."
Designed for decorative outdoor applications, MaxLite LED Marquee Lamps provide the same warm color and brightness as incandescent and fluorescent light bulbs while generating significant energy savings over a substantially longer lifetime. They are also the environmentally friendly choice, as the lamps are constructed free of mercury or heavy metals, and do not emit ultra-violet rays.
For more information about MaxLite LED Marquee Lamps, go to: http://maxlite.com/products/marquee-bulb
About MaxLite (www.maxlite.com)
MaxLite has been committed to providing energy-efficient lighting products for more than 20 years. One of the first movers into LED technology in the industry, MaxLite offers an extensive line of quality, certified indoor and outdoor LED lamps and luminaires. A four-time recipient of the prestigious ENERGY STAR Partner of the Year Award for its industry leadership, MaxLite continues to be at the forefront of energy-efficient technologies through the innovative research and development capabilities of its New Jersey headquarters and California office. For more information, call 800-555-5629, email info@maxlite.com.
Contact:
Amy Silver,
973-244-7300 x111
Email: asilver@maxlite.com
More from Software