MaxLite Adds LED RKT Recessed Troffer Retrofit Kit to DLC-Qualified Products List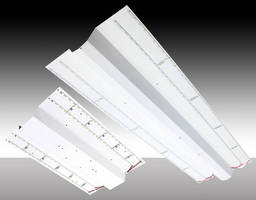 West Caldwell, New Jersey – MaxLite® announces the addition of its LED RKT Recessed Troffer Retrofit Kit to the DesignLights™ Consortium (DLC) Qualified Products List (QPL), qualifying the kit for national utility rebates. Avoiding the removal of an existing recessed troffer from lay-in or T-grid ceiling cavities, the one-piece LED RKT Kit installs within the existing fixture with minimal modifications to the housing; it can be installed easily without opening up the ceiling grid within a wide range of commercial and institutional applications, including offices, lobbies, hallways and conference rooms in schools, municipalities, libraries, airports, healthcare facilities, showrooms, corporate campuses, retailers and hospitality environments.



"Our LED RKT Recessed Troffer Retrofit Kit is a high-quality and value-optimized product that meets the tough requirements set forth by the DLC, and we are proud to add the RKT Kit to MaxLite's expanding list of DLC-approved products," said MaxLite's Vice President of Product Marketing and Engineering Pat Treadway. "The performance-driven kit is a one-man, easy-to-install, and economical upgrade to LED technology, that helps facility managers and commercial building owners stretch construction budgets."



The patent-pending design of the RKT Kit consists of multiple LED strips using LM-80 rated LED chips that are assembled on copper clad FR4 printed circuit boards. The LED strips are mounted directly to the carriage and are secured with screws through pre-punched holes for easy upgrade and replacement. The durable one-piece galvanized sheet housing acts as a heat sink for thermal control, and resists corrosion in damp locations.



Available in color temperatures ranging from very warm white to bright white, the Kit uses thermal dot technology for temperature and warranty control. The lightweight, buzz- and flicker-free LED RKT Kit is available in dimmable models for various lighting levels, engineered with system-matched drivers on 120- to 277-volt electrical systems, and compatible with 0-10V building controls, motion sensors, timers and daylight harvesting systems for additional energy savings. The LED Kits are offered in 45-watt 1'x4' and 2'x2' models and 55-watt 2'x4' models.



See high-resolution images at http://www.maxlite.com/PDFs/PR/PRkit/ML_RKT.jpg.zip and the product webpage at

http://www.maxlite.com/products/led-recessed-troffer-retrofit-kits.



An installation video of the RKT Kit is also available at https://www.youtube.com/watch?v=3gac7a7m5io.



In addition, MaxLite provides lightweight LED RKL Retrofit Kit Strips that are designed with twin aluminum carrier angles for easy installation, heat sinking, and optical diffusion with full range dimming capabilities.



MaxLite has a full line of outdoor DLC-qualified LED fixtures, including Floods and High Output Floods, Area Lights, High Mount Area Lights, Parking Garage Canopy Luminaires and Full Cutoff Wall Packs.



About MaxLite (www.maxlite.com)

MaxLite has been committed to providing energy efficient lighting products for the last 20 years, and was one of the first movers into LED technology in the industry. An ENERGY STAR® Partner of the Year, MaxLite established the MaxLED® brand, an extensive line of indoor and outdoor lighting fixtures featuring innovative LED luminaires and lamps using the latest state-of-the-art LED technology. Through MaxLite's innovative research and development capabilities in its California office and product assembly center in New Jersey, MaxLite continues to be at the forefront of energy efficient technologies. For more information, call 800-555-5629, email info@maxlite.com, or follow us at https://twitter.com/maxlitenewsroom.

More from Architectural & Civil Engineering Products