Maximizing Performance/Minimizing Downtime SOFTAL's New Modular Generator for Corona Treatment Stations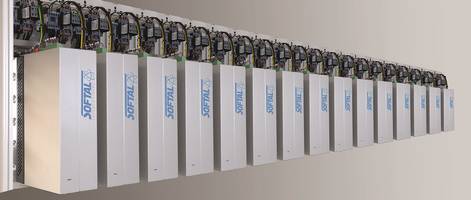 Germantown, WI SOFTAL, of Hamburg, Germany, introduces their new modular-based generator as an important solution to several film and web surface treatment challenges. The SOFTAL modular generator overcomes the power limitations of single generator configurations while reducing production down time and service costs.
SOFTAL's modular generator boast several parallel power inverters, which increase the maximum performance of a single generator to 144kW – more than twice as much as conventional products on the market. Consequently, modular generators are capable of setting new power performance records and are perfectly suited for power-hungry processes utilizing controlled gas. 
The SOFTAL modular generator features the ability to increase power for demanding applications. While corona treating stations are available in all sizes - from narrow web lines to wide coating machines and BOPP/BOPET lines of up to 10 meters - the high frequency and high voltage needed to power the corona process is provided by generators that must be upsized to high performance requirements.
The maximum performance of other generators is limited due to the available size of the electrical components in the power inverters. SOFTAL's modular generators have a power advantage with 144kW versus 60kW per generator, the maximum power available on the market. This power advantage is especially important when corona treating extremely wide lines, high speed applications and when treating materials with a high demand of corona dosage.
A further advantage of the new modular technology involves keeping production lines running. When large, single generator systems experience a technical defect at a critical part of the inverter the entire production line can come to a standstill. With SOFTAL's modular generators, production stoppage is averted because should a module fail the line will still operate but with a reduction in power until the module is replaced. Single modules are identical and thus interchangeable; simply plug and play. With this convenience, SOFTAL's new system greatly reduces production line downtime as well as costly trips by service specialists.
View the modular generator from SOFTAL at 3DT LLC's booth #4283. 3DT represents SOFTAL for sales, service and support in North America. Learn more about the modular generator and SOFTAL's full line of corona and plasma treatment systems at www.3DTLLC.com.
Contact:
3DT LLC, booth #4283
Gaye Kiel
1-262-253-6700