MAXIEM® Line of Machines Marks a Year of Growth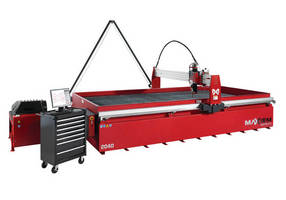 Kent, Washington - In just one short year, the OMAX® Corporation has grown its line of MAXIEM JetCutting Systems to five machine models, with the most recent additions, the MAXIEM 2040 and MAXIEM 0707, to be shown at the company's IMTS booth # N-6228. OMAX first introduced the MAXIEM line in 2009, and the product line continues to flourish and meet customer demands for cost-efficient, industry standard waterjet cutting technology.

MAXIEM JetCutting Systems are simple, reliable, and efficient abrasive waterjet machines offered at affordable prices. Never before have the benefits of waterjet technology been so accessible to fabrication shops, metal service centers, trade schools, job shops, and architectural, sign, stone and gasket shops as they are now with the MAXIEM line of machines.

MAXIEM machines are made in the United States, and all models incorporate industry-leading OMAX 50,000 psi direct drive pump technology. The pumps deliver more cutting power per kilowatt than intensifier-type pumps and are available in 20 hp and 30 hp versions for MAXIEM machines.

Shops can produce quality parts from virtually any type of material thanks to the robust Intelli-MAX® Software loaded into every MAXIEM machine. These software controls are easy-to-use and eliminate the need for complicated G-code programming knowledge.

The X-Y tables on MAXIEM machines incorporate the Intelli-TRAX(TM) traction drive technology and a Motorized Z-Axis. The mechanics of the drive system allow for superior performance in harsh abrasive waterjet environments and help provide exceptionally high-quality parts.

OMAX offers several innovative accessories for MAXIEM machines, and those accessories can even be applied long after a machine has been purchased. The MAXIEM website provides a full list of those accessories, some of which include:

o A-Jet(TM): Articulated jet that allows beveled edges to be cut at specific angles and is capable of a positioning accuracy of ±0.09 degrees (±6 arc minutes).

o Terrain Follower: Automatically adjusts Z-axis heights to accurately cut parts from uneven stock surfaces without the need for special programming.

o DualBRIDGE: Two Y-bridges, each optimized with completely different accessories to increase machine capabilities.

o DualPUMP: Fully integrated pump system designed for shops that cut thick materials or require high-capacity production or multiple-nozzle operations.

o 600-lb Bulk Abrasive Feed Hopper: A large capacity abrasive delivery system using compressed air to automatically transport garnet from the Bulk Abrasive Feed Hopper to the small hopper located on the machine, making garnet refills easier to manage.

"Every aspect of MAXIEM abrasive waterjets has been designed to offer incredible value. We power these machines with innovation, and motivated by your success, we are committed to the continuous development of affordable equipment that is as precise, easy-to-use and reliable as conventional machine tools," said Dr. John Cheung CEO of OMAX. "MAXIEM machines are backed by the highest number of technicians per machine based on units in the field, complete factory quality testing prior to shipment, and one day of basic operator training at customer facilities."

MAXIEM JetCutting Center models include the 2040, 2030, 1530, 1515, and the 0707.

o MAXIEM 2040s feature X-Y cutting travels of 160 inches x 79 inches (4,064 mm x 2,006 mm), table sizes of 189 inches x 81 inches (4,801 mm x 2,057 mm), and maximum table loads of 250 pounds/square foot (1221 kg/square meter).

o MAXIEM 2030s provide X-Y travels measuring 122 inches by 79 inches (3,100 mm x 2,006 mm) and table sizes of 151 inches by 81 inches (3,835 mm x 2,057 mm) that handle the same maximum supported material loads as the MAXIEM 2040.

o MAXIEM 1530 model X-Y travels measure 122 inches x 62 inches (3,100 mm x 1,575 mm), and its table size is 151 inches by 69 inches (3,835 mm x 1,752 mm) with a maximum material load of 250 pounds/square foot (1221 kg/square meter).

o MAXIEM 1515 X-Y travels measure 62 inches x 62 inches (1,575 mm x 1,575 mm). Table size is 92 inches x 69 inches (2,337 mm x 1,752 mm), which supports maximum material loads of 250 pounds/square foot (1221 kg/square meter).

o MAXIEM 0707 JetCutting Centers are the ideal industry standard abrasive waterjet machines. Their X-Y cutting travels of 30 inches x 30 inches (762 mm x 762 mm) and maximum table loads of 250 pounds/square foot (1221 kg/square meter) make the 0707 machines perfect for prototyping or research and development environments and for shops making their first foray into waterjet cutting technology. An affordable price of just $67,000 allows for substantial return on investment from a MAXIEM 0707 machine.

See the MAXIEM 0707, along with the MAXIEM 2040, at IMTS 2010 in the OMAX booth, #N-6228. The company will also display a variety of unique accessories designed to provide manufacturers with significant cost and time savings.

For more information on the complete line of MAXIEM brand abrasive waterjet machines, please visit www.maxiemwaterjets.com.

About OMAX

Headquartered in Kent, Washington, OMAX Corporation is the world leader in abrasivejet machining. Each OMAX JetMachining® Center and MAXIEM® JetCutting Center is powered by the company's innovative control software, bringing affordable abrasivejet technology to an expanding and diverse group of industries. For more information on MAXIEM products and accessories, contact Sandra McLain at 877.629.4365 or visit www.maxiemwaterjets.com.


Related