Matrox to Exhibit Latest Process Control Solutions at Hannover Messe 2017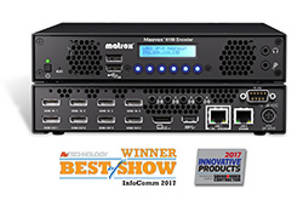 IP-enabled products to be focus of Matrox booth; IP KVM Extenders, Maevex 6150 quad 4K encoding/recording appliance, and C-Series/Mura IPX video wall to be showcased in Hannover
Montreal - April 10, 2017 - Matrox® Graphics Inc. will be present at the Hannover Messe show (April 24-28, 2017; Hannover, DE; Hall 11, Stand B65) showcasing a lineup of IP-enabled KVM (keyboard, video, mouse) extenders, encoders, and video wall products for use in command and control rooms, process control, manufacturing, and security applications.
Matrox will be presenting - for the first time - an all new, IP-enabled KVM technology to remote operator workstations. Featuring industry-leading remote multi-display functionality and performance, this IP KVM technology is compatible with both fiber optic and copper cabling, and easily integrates with existing network infrastructure.
Demonstrating the versatile nature of the H.264-standard across workflows, a Maevex 6150 quad 4K encoder appliance will transmit high-quality 4:2:0 and 4:4:4 streams provided over the network. On the receiving side, a single Mura IPX 4K capture and decode card will decode the multiple streams, with a Matrox C680 multi-output graphics card powering four displays arranged as a cost-effective, easy-to-integrate 2x2 video wall.
Recently announced, the Maevex 6150 quad encoder appliance offers industry-leading 4K capture plus multiple encodes to stream and/or record four or more channels simultaneously at high quality and low bitrates, all in a convenient form factor. With multiple supported protocols - including RTP, RTMP, RTSP, and MPEG2.TS - compatibility with other hardware and software for decoding and cloud-based video and content delivery networks is virtually assured.
Matrox Mura IPX Series capture, encode, decode, and display cards provide OEMs and system builders with best-of-breed hardware and software to enhance their video wall controllers, multiviewers, operator workstations, and personal video walls with advanced video processing and networking capabilities. Featuring unprecedented, high-density Full HD, 4K and 8K support, the world-class Mura IPX video wall portfolio is ideal for control rooms, digital signage, AV presentation, security and more.
The Matrox C680 is a single-slot graphics card that drives up to six displays or projectors at resolutions up to 4096x2160 per output. The versatile, six-monitor video card can power the latest 4K panels as well as enable 12-monitor configurations when combined with a second Matrox C680 board. With its high reliability, outstanding performance, and advanced multi-monitor capabilities, Matrox C680 delivers the best display density for demanding commercial and critical applications including enterprise, industrial, pro A/V, digital signage, security, control rooms and more.
About Matrox Graphics Inc.
Matrox Graphics is a global manufacturer of reliable, high-quality ASICs, boards, appliances, and software. Backed by in-house design expertise and dedicated customer support, Matrox products deliver stellar capture, extension, distribution, and display. Engineering high-quality products since 1976, Matrox technology is trusted by professionals and partners worldwide. Matrox is a privately held company headquartered in Montreal, Canada. For more information, visit www.matrox.com/graphics.
Matrox Media Contact:
Myles Carter
Email: pr@matrox.com
Tel: +1 (514) 822-6000 ext. 2046
More from Packaging Products & Equipment