Matrox Expands Support for its External Multi-Display Upgrades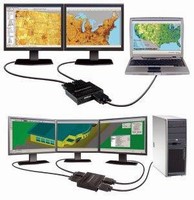 Montreal, Canada, June 13, 2006 - Matrox Graphics Inc. announces expanded monitor and graphics hardware support for its popular Graphics eXpansion Modules (GXMs). These easy-to-install, palm-sized, external upgrades add multi-display support to a system by dividing the monitor output of a computer into separate displays.

The original DualHead2Go now supports the wide range of graphics hardware already supported with TripleHead2Go, including add-in cards from ATI Technologies® and Nvidia®, and SLI(TM) configured systems.

With TripleHead2Go, in addition to existing support for 3 monitors at time, Matrox now provides support for 2 monitors at a time, wide screens, and higher refresh rates.

"This expanded support allows DualHead2Go to be used with a wider variety of graphics hardware and TripleHead2Go to be used with a wider variety of monitors," says Samuel Recine, Business Development Manager, Matrox Graphics. "The support we added to these products reflects the things most frequently requested by our customers."

The added graphics hardware support for DualHead2Go is the result of new certification by Matrox - for more information, see the online DualHead2Go compatibility list. Enabling the new TripleHead2Go display modes requires downloading and running a separate software tool.

For more information on DualHead2Go, TripleHead2Go, and other Matrox Graphics products, visit: http://www.matrox.com/mga/workstation/3dws/products/home.cfm

Availability and pricing - Matrox TripleHead2Go and DualHead2Go are available at list prices of $299 and $169, respectively. These products can be purchased from authorized Matrox resellers worldwide or, in North America and Europe, directly from Matrox at shopmatrox.com. For more information, call Matrox Sales at 1-800-361-1408 (North America) or e-mail technicalsales@matrox.com.

About Matrox Graphics Inc. - Matrox Graphics Inc. is the leading manufacturer of graphics solutions for professionals and has been delivering high-quality, innovative 2D/3D and graphics hardware since 1976. Creator of the multi-display phenomenon, Matrox combines its proven graphics chip designs, reliable software development, and dependable card manufacturing expertise to produce products that are reputed worldwide for their superior image quality, practical ingenuity and unwavering stability. Matrox Graphics designs and supports graphics solutions optimized for utility, empowering professionals to see more and do more. A privately held company headquartered in Montreal, Canada, Matrox has international offices in the United States, the United Kingdom, Ireland, Germany, Italy and Hong Kong. For more information, visit http://www.matrox.com/graphics.

Related