Matrix Switches and Extenders incorporate KVM features.
Press Release Summary: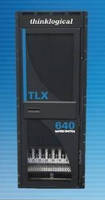 Using 2 CATx cables or 3 fibers, TLX Series, which includes TLX640 matrix switch and DisplayPort 1.2 and HDMI 1.4 extenders, can extend and switch computer peripherals and uncompressed 4K video at full 4096 x 2160 resolution and 4:4:4 color depth at 60 Hz frame rate. Connector can receive both HDMI and DisplayPort cables on same on same TLX extender, and configurations support multi-mode fiber, single-mode fiber, and CATx cables with 10 Gbps bandwidth per port.
---
Original Press Release:

Thinklogical Extends Market Leadership; Adds KVM Extension and Switching to New TLX Series



TLX is the only solution available that can extend and switch full uncompressed 4K video at 4:4:4 color depth and 60Hz frame rate over just two cables; to be showcased at booth 3479 at InfoComm 2015



MILFORD, Conn. -- Thinklogical, a global manufacturer of secure, high performance signal extension and switching systems for video-rich applications, today announced that it is introducing KVM features to its new TLX Series matrix switches and extenders at InfoComm 2015, June 17-19, at the Orange County Convention Center in Orlando, Fla, in booth 3479.



TLX is the first and only solution available in the market today that can extend and switch computer peripherals and uncompressed 4K video at full 4096 x 2160 resolution and 4:4:4 color depth at 60Hz using only two CATx cables or three fibers. TLX offers customers industry-leading 10Gbps performance and a flexible and efficient hybrid architecture, reducing the cost and infrastructure required to manage content created in the 4K standard without compromising quality or performance.



The Thinklogical booth at InfoComm will showcase live demonstrations of TLX KVM and 4K@60Hz video signal management featuring the TLX640 matrix switch, the market's highest capacity and most flexible matrix, and the company's  DisplayPort 1.2 and HDMI 1.4 extenders. Thinklogical offers an innovative connector on its TLX extenders that can receive both HDMI and DisplayPort cables on the same extender, reducing the number of extenders needed, and eliminating the requirement for an external adapter or dongle to convert from DisplayPort to DVI or HDMI.



Other booth demonstrations include KVM and video extension over long distances with redundant fiber paths for increased uptime and reliability, and Secure Restricted Switching, which showcases Thinklogical's unique and accredited ability to manage multiple classifications of information through a single matrix switch chassis. Restricted Switching is a key criteria for secure applications in defense and intelligence requiring information assurance (IA) approval, such as C4ISR, command and control, UAS ground stations, watch floors, and simulation and training environments.



"We're pleased to add KVM functionality to the TLX feature set and meet customer demand for a comprehensive solution that delivers high performance at the lowest possible cable count," said Joe Pajer, president and CEO of Thinklogical. "With TLX, Thinklogical builds on our reputation for providing professional-grade, uncompressed signal management products at prices competitive with lower-quality, compressed KVM alternatives. For applications where information security, video resolution, and user productivity are mission-critical requirements, Thinklogical offers unparalleled solutions."



TLX offers hybrid configurations supporting multi-mode fiber, single mode fiber, and CATx cables with 10Gbps bandwidth per port, and interoperability with Thinklogical's market-leading Velocity Series 6.25Gbps fiber-optic KVM product line. Specifications and capabilities include:



TLX Video and KVM Extension Systems

--  Extension of up to 80km over fiber, 100m over CAT6a

--  Support for a single display up to 4096x2160 @ 30Hz, or two displays up to 1920x1200 @ 60Hz over a single fiber or CATx cable

--  Support for a single display up to 4096x2160 @ 60Hz, or two displays up to 4096x2160 @ 30Hz over two fibers or CATx cables

--  Support for two displays up to 4096x2160 @ 60Hz over four fibers or CATx cables

--  Supports HDCP content

--  Local output port(s)

--  Ethernet port for configuration, management and updates

--  Support for full duplex stereo and embedded audio, with ability to de-embed at the receiver

--  Support for unbalanced analog audio and serial RS-232

--  Support for USB HID and USB 2.0 (480Mbps)

--  Modular, hot-swappable form factor



TLX Matrix Switches

--  Non-blocking and protocol agnostic

--  Scalable chassis sizes from 12 ports to 640 ports

--  Hot-swappable critical system components: power supplies, fan trays, control cards, data input/output cards

--  Redundant and current-sharing power supplies

--  Redundant control cards with automatic failover

--  Expected to achieve Common Criteria EAL4, TEMPEST SDIP 27 Level B and NATO NIAPC Evaluation Scheme: GREEN information assurance (IA) accreditations



TLX solutions are available for order now from Thinklogical and authorized resellers. More information and specifications about TLX can be found at http://www.thinklogical.com/tlx_hybrid_kvm_solutions



About Thinklogical

Thinklogical LLC is a leading manufacturer and provider of video, audio, and computer peripheral signal extension and switching solutions. Customers worldwide rely on Thinklogical's products and services for security, high performance, continuous operation and ease of integration. Thinklogical offers the world's only fiber-optic matrix switches that are accredited to The Common Criteria EAL4, TEMPEST SDIP 27 Level B, NATO NIAPC Evaluation Scheme: GREEN, and the U.S. DoD DISA JITC UC APL. An ISO 9001:2008 certified company, Thinklogical products are designed and manufactured in Milford, Conn. USA. The company is privately held by Riverside Partners LLC of Boston, Mass. (http://www.riversidepartners.com).



Website: www.thinklogical.com



LinkedIn: www.linkedin.com/company/thinklogical



YouTube: www.youtube.com/user/thinklogicalNA



Facebook: www.facebook.com/ThinklogicalUSA



Twitter: @thinklogical



Google+: http://plus.google.com/u/0/109273605590791763795/about



Media Contact

Thinklogical

Robert Ventresca

+1 (203) 647-8728

Email

More from Controls & Controllers