Matrix Offers a Convenient One-Stop Destination at United Fresh 2016 for Bag, Pouch, and Stickpack Packaging Machines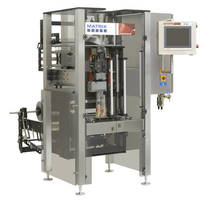 Serving as headquarters for the Pro Mach Flexible Packaging Group at the show, Matrix sells and supports rugged, reliable, and low cost to operate vertical and horizontal form fill seal baggers, pre-made pouch rotary bagging machines, and stickpack and sachet equipment. (Matrix Booth # 2408)



SAUKVILLE, Wis. - Matrix Packaging Machinery, powered by Pro Mach, features at United Fresh 2016, June 20-22 at McCormick Place, Chicago, a selection of flexible packaging solutions designed to give packers and co-packers in the fresh produce industry trouble-free packing and rapid return on their investment in a packaging machine. The machines at the show and a host of others from the Pro Mach Flexible Packaging Group represent a range of solutions available for packing produce and condiments in film bags, pre-made pouches, rollstock pouches, and stickpacks and sachets. (Matrix Booth # 2408)



"The three machines on display at United Fresh 2016 showcase the Matrix approach to flexible packaging machines – rugged and dependable equipment that is easy to use and low cost to operate," said Marc Wilden, Vice President and General Manager, Matrix. "I urge packers and co-packers to stop by the booth to see the machines we are featuring at the show and talk to our applications personnel to find a machine that fits their need and budget."



Fast and versatile, the Morpheus continuous motion vertical form fill seal bagger



The Morpheus continuous motion form fill seal machine is rated at up to 180 bags per minute and features automatic setup capabilities that reduce changeover time and lead to higher productivity. The Morpheus offers a small footprint to conserve floor space, servo control for precise motion, and ProTech by Pro Mach™ - the remote tech support and overall equipment effectiveness (OEE) monitoring service.



Morpheus machines run films that require longer seal times, making these units ideal for applications such as frozen, fresh cut, and individually quick frozen (IQF) foods. Automatic setup removes the potential for operator error, helps to improve package quality, and decreases changeover time.



Toyo Jidoki TT-8D-N



The Toyo Jidoki TT-8D-N pre-made pouch fill and seal machine is designed for stand-up, flat bottom, and fifth-panel style bags. The TT-8D-N pre-made pouch filler sealer is rated at up to 55 flat, standup, and press-to-close pouches per minute. The machine is easy to clean and wash-down. Options and accessories include:



• Date printer

• Air squeeze device

• Nitrogen gas flush

• Liquid filling systems

• Zip open/close device

• Seal area cleaning

• Double pouch detection

• Pouch opening detection device

• Pouch pick up position detection

• Product in seal detection

• Product feeding hopper

• Product discharge conveyor



Inever stickpack packaging system-the BY300



The compact, modular, and robust Inever BY300 multilane stickpack machine is ideal for low-to-medium production of quality stickpack seals of powders, granules, solids, liquids, and pastes with minimal investment required. Output ranges from 150 stickpacks per minute for a three-lane operation to 350 per minute with seven lanes. The BY300 features PLC control, brushless servo motors, and a touch screen HMI. The machine's rugged ergonomic design lends itself to easy cleaning and low maintenance. Available options include:



• Patented "built-in" LASER device for easy opening pre-cut

• Laser or ink jet hot foil printing

• Thermo printers

• Embossed coding for variable data

• Dust aspiration for powders

• Collating/counting conveyors for cartoning

• Integrated top load or end load cartoning

• Mechanical cam drive



For more information on the one-stop-shop opportunities offered by Matrix at the Pro Mach Flexible Packaging Headquarters, visit www.MatrixPM.com for information on the company's full range of packaging solutions.



About Matrix



Matrix Packaging Machinery is an industry-leading manufacturer of vertical form fill seal (v/f/f/s) packaging equipment. Since 1988 Matrix has built a solid reputation for delivering rugged, well-engineered, cost competitive, and easy-to-use packaging systems backed by outstanding customer support. Matrix has v/f/f/s, stickpack, and pouch filling machines in operation throughout the world, handling a wide range of products in very diverse conditions. www.MatrixPM.com



About Pro Mach



Pro Mach is a leading provider of integrated packaging and processing products and solutions for food, beverage, consumer goods, pharmaceutical, and other diverse companies. Through its brands, Pro Mach provides product packaging and processing equipment, PMMI certified training, installation, parts, and service in Bottling Capping, Primary Packaging, Flexible Packaging, Material Handling, Identification Tracking, and End of Line Packaging.



Pro Mach has a diverse customer base, from Fortune 500 companies to smaller, privately held businesses worldwide, which depend on reliable, flexible, technologically advanced equipment and integrated solution sets. Pro Mach is headquartered near Cincinnati, Ohio, with manufacturing facilities and offices throughout the United States, Canada, and Europe. For more information about Pro Mach, visit www.ProMachInc.com.

More from Packaging Products & Equipment