Materials Lab Launches A2LA-Accredited Fatigue Testing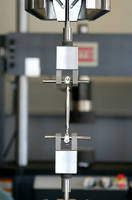 Sherry Laboratories' metallurgical testing laboratory in Daleville, Ind., is pleased to announce the launch of a fatigue testing lab, which expands the company's service offering to customers in the aerospace, defense, automotive, fastener, metal manufacturing and oil and gas industries. Companies perform fatigue testing, also called cyclic or dynamic testing, for a multitude of reasons, including product reliability, product liability, process change, material change, performance, research and development.

"We're working extremely hard to create a portfolio of services that is in perfect harmony with the needs of our diverse portfolio of clients," said Jennifer Tret, Vice President of Materials Testing. "As with all of the highly technical services we offer, the ability to understand customers' unique needs and make recommendations for fatigue testing comes with experience. Our Director of Materials Testing has vast fatigue testing experience, and is a 25-year veteran in the materials testing industry."

As a successful result of a recently completed A2LA audit, Sherry has successfully added High Cycle Fatigue (HCF) ASTM E466, Low Cycle Fatigue (LCF) ASTM E606 and Fracture Toughness ASTM E399 and E1820 methods to its A2LA scope of accreditation.

"The initiatives in which we are investing, including the launch of our fatigue laboratory, expansion of our creep and stress rupture capacity, and installation of new, innovative equipment, as well as Lean and Continuous Improvement initiatives, are catalysts for our growth as we continue to build Sherry Laboratories as the industry lab of choice," said Chris LaMothe, Chairman and CEO.

Sherry Laboratories in Daleville, Ind. provides metallurgical testing services as well as failure analysis and reverse engineering for clients in a variety of industries including aerospace, defense, oil and gas, nuclear and metal distribution.

About Sherry Laboratories

Sherry Laboratories, headquartered in Daleville, Ind., is a network of 11 testing laboratories located in Indiana, Ohio, Oklahoma, Louisiana, and Texas. In addition to metallurgical and nonmetallic testing, Sherry provides independent and uniquely accredited air, environmental, food, microbiological, bioassay, hydrocarbon and petrochemical testing services and engineering expertise. Established in 1947, Sherry maintains an impressive list of accreditations and approvals, and serves clients across the United States and throughout the world. To learn more about our company, visit our web site at www.sherrylabs.com.

More from Controls & Controllers