Welding Rods, Wire and Electrodes
Materials Expertise Live at Fabtech 2016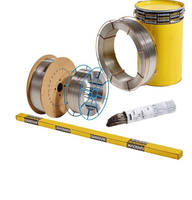 Sandvik has just launched five new additional alloys to its Sanicro™ nickel based welding wire and covered electrodes program. This corrosion-resistant news is just one of the happenings on the Sandvik stand (N3708) at Fabtech 2016. Meet the Sandvik materials experts behind the growing LinkedIn group 'Welding and Materials' to discuss your corrosion challenges and more.



Designed for use in the most demanding environments, these newly introduced welding nickel alloys significantly increase and complete the advanced welding materials portfolio available from Sandvik. The new, nickel based grades include: welding wire Sanicro 55 (ERNiCrMo-14); covered electrodes, Sanicro 53 (ENiCrCoMo-1), Sanicro 54 (ENiCrMo-10), Sanicro 56 (ENiCrMo-4), and Sanicro 59 (ENiCrMo-13). Complementing these introductions is a new flux, Sandvik 69S, specifically designed for ESW high speed cladding of nickel based welding strip.



"We now offer customers a complete portfolio of welding consumables for stainless and nickel alloys to help them overcome corrosive environments in the most demanding applications," explained Clemente Tallarico, Sandvik Global Product Manager Welding. "With the launch Sandvik takes another step towards being the 'go to one-stop-shop' when it comes to advanced material solutions for joining and cladding requirements."



On the stand: Digital and live focus on welding and materials



Being a developer and manufacturer of welding consumables, Sandvik's stand at Fabtech will naturally focus on welding and welding materials. This year however, the focus will be both physical and digital, with a live welding demonstration using advanced Sandvik materials, and a demonstration of the Sandvik Welding Handbook app. The latter has been developed with on-the-job functionality to meet the requirements of welding professionals' when planning and performing welding projects. There to guide visitors through the activities will be the materials experts behind the now more than 1000 members strong LinkedIn group 'Welding and Materials'; a forum for welding professionals who want to share and develop within welding.



Frank Babish, one of the Sandvik application specialists running 'Welding and Materials': "It is great that discussions can take place regardless of where in the world the members are located. We started the group based on long experience of solving welding challenges and a desire to 'get together' with others possessing welding knowledge. Hopefully, the group can continue to grow and become a meaningful 'meet-up spot' for even more professionals who have welding close to their hearts."



Detailed information on all the new Sanicro™ nickel grades and the Sandvik Welding Handbook app can be found on the web (smt.sandvik.com/welding).



On behalf of:



Sandvik Materials Technology,

SE-811 81,

Sandviken,

Sweden Media Contact :

Malin Pessa.

Email: malin.pessa@sandvik.com

www.smt.sandvik.com



Issued by:



NC Creative Group,

Solihull,

West Midlands B91 3QG,



UK Contact:

Terry Forsythe.

Email: media@nccreativegroup.com

Tel: +44 (0) 121 711 6510



Corner Oak,

1 Homer Road,

Solihull West Midlands B91 3QG

T: +44 (0) 121 711 6510

E: media@nccreativegroup.com

W: www.nccreativegroup.com



CIPR Regional Pride Gold Award Winners 2007, 2010, 2015 2016 NC



Creative Group Limited. Registered in England No. 4313237.

Related