Material Transfer Awarded New Patent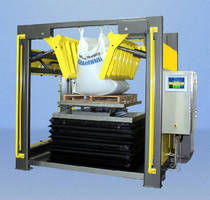 Allegan, MI - The United States Patent and Trademark Office announced that it has issued Material Transfer & Storage, Inc. a patent for an innovative new product that has been marketed and sold to many leading Fortune 500 companies.

In today's global economy many manufacturers purchase raw materials from around the world in large flexible containers referred to as "bulk bags" or "super sacks". These materials typically are shipped by ocean vessel which often causes them to harden making it impossible to discharge the product in the manufacturing process. The
Material Master(TM) Conditioning System is designed to "break-up" this hardened material
and return it to a usable, free-flowing state.

Material Transfer has earned a reputation as the premier manufacturer in the bulk material handling industry by custom designing equipment to meet customers' specific application requirements. The company holds five patents and has received numerous industry awards including: Material Handling Equipment Product Choice Award, the Breakthrough Product of the Year Award and two separate Product Innovation Awards.

More from Electronic Components & Devices