Material Processing System accepts 2 air-cooled CO2 lasers.
Press Release Summary: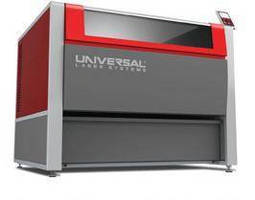 Consisting of 40 x 24 in. laser material processing area and advanced beam delivery system, Model XLS 10.150D is used for cutting organic materials and marking/engraving of both organic and inorganic materials. System provides high-speed beam positioning using rigid, friction-free motion system with servo driven motors. It features full color LCD, multiple focusing modes, and Laser System Manager software with Materials Database containing optimal settings for processing hundreds of materials.
---
Original Press Release:

Universal Laser Systems Announces Advanced Laser Material Processing Solution for Manufacturing



Scottsdale, AZ -- Universal Laser Systems, Inc. extends its product portfolio with the XLS product family. The XLS 10.150D is the first platform model to be released for the XLS product family. This CO2 laser compatible platform addresses diverse material processing needs - from the everyday to the unusually complex. Material processing includes cutting organic materials and marking/engraving of both organic and inorganic materials.



The XLS 10.150D platform consists of a 40 x 24" (1016 x 610mm) laser material processing area and an advanced beam delivery system. This system provides high-speed, accurate and repeatable beam positioning by utilizing an extremely rigid, yet friction-free motion system, with high-performance servo driven motors. Additional platform features include support for multiple lasers, touchscreen with full color LCD, multiple focusing modes, extensive safety features, and Laser System Manager software with a Materials Database containing optimal settings for processing hundreds of materials and an Estimation Tool for determining productivity in advance of laser processing. The XLS10.150D platform accepts up to two interchangeable air-cooled CO2 lasers for either single or dual laser configuration. The lasers can be individually or simultaneously controlled, quickly delivering a wide range of power up to 150 watts.



To learn more about the XLS10.150D, go to www.ulsinc.com.   For a list of materials compatible with the XLS10.150D or to learn more about processing specific materials, send your inquiry to moreinfo@ulsinc.com.



About the XLS Product Family

The XLS product family consists of modules that work together like building blocks to create the perfect solution to meet present and future business needs. This modular design architecture allows for the customized selection from modules that include a feature-rich, highly configurable platform, lasers, focusing optics, workflow and process optimization, safety and facility, and software.



About Universal Laser Systems, Inc.

For over 25 years Universal Laser Systems has been gaining extensive experience with laser-material interactions. Using this experience, Universal Laser Systems develops customizable DLMP™ (Digital Laser Material Processing) solutions to deliver the highest capability, flexibility, and performance lasers and laser system solutions for advanced material processing.



Contact:

James Rabideau

jrabideau@ulsinc.com

480-483-1214 ext.214

More from Electrical Equipment & Systems