MATERIAL HIGHLIGHT: 3M(TM) Bumpon(TM) Resilient Rollstock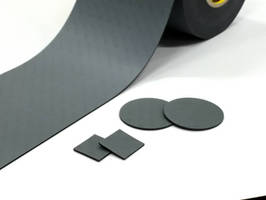 What is 3M™ Bumpon™?



3M™ Bumpon™ is a material that you more than likely come in contact with on a daily basis, but you probably never even knew it existed.  3M™ Bumpon™ Resilient Rollstock is a self-adhesive rubber bumper designed to be used as feet, stops and spacers on handheld or desktop computers, calculators, electronic housewares, electronic equipment, desktop items and medical devices.



The rollstock format is excellent for die-cut shapes with various thickness requirements for gasket applications to fill gaps, dampen noise and reduce vibration.



Product Protection



3M™ Bumpon™ features include:




Easy application with 3M pressure sensitive adhesives



High skid-resistance.



Won't scratch or stain surfaces



Reduces vibration and noise



Will not crack or harden



3M™ Bumpon™ for a Variety of Applications



Application Ideas for 3M™ Bumpon™ include:




Die cut for gasket application



Anti-rattle spacer to fill gaps, dampen noise and reduce vibration



Skid-resistant surface on floor



Cushions or spacers within electronic devices



Selective masking for sandblast operation



Spacer or stop to prevent surface damage



Door kick pads



Corner protection strips



Die cut cushioning stop for cabinetry



3M™ Bumpon™ is a highly convertible material, making it easy for us to custom fabricate. This maerial can be custom cut into virtually any shape imaginable. SRP's processing capabilities for this material includes: Die Cutting, Flash Cutting, Rotary Die Cutting, Waterjet Cutting, Laser Cutting, and Laminating.



There are many types of 3M™ Bumpon™ materials with thicknesses varying from 1/32" to 1/8", and densities ranging from soft to hard. For more technical information, check out our online data sheet.



If you have any questions or inquiries concerning 3M™ Bumpon™, please do not hesitate to call us at 847-593-5630, or email us at info@srpco.com. We will be happy to answer any questions you may have, or assist you in assuring you are choosing the right materials.

More from Mechanical Components and Assemblies