Material Handling Platform offers vertical/horizontal travel.
Press Release Summary: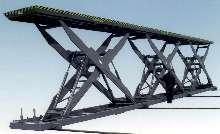 Material Handling Platform features triple-stage, sequenced leg assemblies and can hydraulically lift 10,000 lb load on 5 x 60 ft platform through 12 ft vertical lift. System can be power-driven horizontally on four 60 ft rails installed in floor. Hydraulic lifting system, incorporating PentaFlow cylinder, is completely sealed and all components are continuously lubricated with fresh oil. Platform is used for storage and retrieval of 4 x 60 ft insulated metal wall panels.
---
Original Press Release:
Pentalift Equipment Announces Development of Material Handling Platform with Vertical & Horizontal Travel Capability

April 2003 - Designed and engineered for use in the storage and retrieval of 4' x 60' insulated metal construction wall panels fabricated for commercial, industrial and cold storage buildings, Pentalift Equipment Corporation, Buffalo, NY announces a unique material handling platform combining vertical and horizontal travel.

Featuring triple-stage, sequenced leg assemblies, the unit is capable of hydraulically lifting a 10,000-lb load on a 5' x 60' platform through a 12' vertical lift. The entire system can be power-driven horizontally on four 60' rails installed in the floor.

The hydraulic lifting system features Pentalift's exclusive PentaFlow Hydraulic Cylinder, designed to ensure long cylinder life and reduce maintenance. The PentaFlow cylinder is completely sealed and all components are continuously lubricated with fresh oil, eliminating cylinder contamination, deterioration and dead-ending as well as high-stress build-up in the cylinder, equipment structure and hydraulic system.

According to Pentalift, the unit is also equipped with a special high cycle, central lubrication package for ease of maintenance.

The horizontal travel, employing a two-speed control for soft start/stop and high speed, and the vertical lift are operated from a single control station.

For information on the new vertical and horizontal platform, contact Pentalift Equipment Corporation, P.O. Box 1510, Buffalo NY 14120. Phone 519-763-3625, Fax: 519-763-2894, E-mail: lifttables@pentalift.com Website: http://www. pentalift.com

Mike Earle, Sales Manager

Pentalift Equipment Corporation

PO Box 1510

Buffalo NY 14240-1510
More from Optics & Photonics