Material Handlers optimize safety and comfort.
Press Release Summary: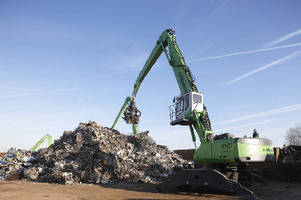 Powered by emissions-compliant 264 hp Cummins Tier II diesel engines, 835 and 840 D Series Machines are available as crawlers, pedestal-mounted machines, or electrically driven machines. Both include 25 kW magnet system, sliding door with adjacent catwalk, climate control system, and handrail on top of upper carriage for safety. Applications range from unloading and loading trucks with scrap to feeding stationary shears with feedstock and unloading river barges.
---
Original Press Release:

Safety is #1 with New Sennebogen 835 and 840 D Series



CHARLOTTE, NC - SENNEBOGEN LLC recently announced the launch of its latest line of SENNEBOGEN 835 and 840 D Series purpose-built material handlers. Long considered to be the company's workhorses and the all-purpose machines of choice for many customers, the new 835 and 840 D Series offer the same safety and comfort features as the 825 and 830 D Series machines. The new models come equipped with powerful and emissions-compliant Cummins Tier III engines.

"These new models, already in production, underline our commitment to bringing our customers cost-efficient, reliable purpose-built material handlers with the kind of safety and comfort features they require and have come to expect from SENNEBOGEN." says Constantino Lannes, President of SENNEBOGEN LLC.

Continuing to lead through innovation

Since entering the North American market in 2000 with its purpose-built material handlers, as opposed to modified excavators, SENNEBOGEN has prided itself on Leading Through Innovation by offering factory-engineered solutions to its customers' onsite application needs. Always cognizant of the fact that safety issues are not generic in nature, but unique to each customer's working environment, SENNEBOGEN engineers have come up with practical solutions that address these needs.

"We have listened to the concerns about operator safety expressed by leading industry spokespersons and our customers around the world. Our engineers have worked to incorporate many of their suggestions into our D Series models," says Erich Sennebogen, Owner and Managing Director of SENNEBOGEN Maschinenfabrik GmbH. "We continue to design and build our machines to meet the highest standards of safety demanded by our customers. The introduction of the new SENNEBOGEN 835 and 840 D Series is the next step in a natural progression."

SENNEBOGEN 835 and 840 are the company's all-purpose machines

From unloading and loading trucks with scrap, to feeding stationary shears with feedstock, to unloading river barges and feeding hoppers with aggregate material, to stacking and picking up logs and loading them onto waiting railcars, SENNEBOGEN 835 and 840 machines can be found on-the-job in a wide variety of job applications throughout the world. Indeed, the 835 and 840 models have proven themselves to be the company's all-purpose machines.

Available with rubber tires (835 M, 840 M), as a crawler (835 R-HD, 840 R-HD), a pedestal-mounted machine (835 special, 840 special) or as an electrically-driven machine, the new SENNEBOGEN 835 and 840 D Series incorporates the following safety and comfort features:

o A revolutionary sliding door combined with the adjacent catwalk, which provides an easy and safe way for the operator to step into and out of the cab without the awkwardness of a swinging door hitting the catwalk rail

o A cab position that provides easy access for the operator to get to and from the cab via a small set of stairs and hand-rails

o Upgraded air conditioning with climate control systems in the cab that create a comfortable atmosphere that keeps operators alert, attentive and undistracted

o Improved access to maintenance areas, such as a centralized undercarriage greasing point, making maintenance easier and safer

o A handrail on top of the upper carriage for a safe working environment

o An ergonomically designed cab for more operator comfort

Gary Brouillette, General Manager of the Landfill Division of Samsula Waste Inc. in Florida, speaks highly of the features on his company's SENNEBOGEN 825 D Series machine. "One of the reasons we selected this unit was due to the distinctive cab on the 825 D Series which is loaded with new features designed to increase operator safety, comfort and productivity. Our service techs also like it for the ease of access to the maintenance area," continued Brouillette. "Being in Florida, our operators also appreciate the new climate control systems and the view from the hydraulically operated cab is perfect. It's ideal, especially when they are feeding our horizontal wood grinder."

Standard Features

The SENNEBOGEN 835 D Series comes with these standard features:

o Operating weight of 100,000 lbs.

o 264 HP Cummins diesel engine

o 25 kW magnet system

The SENNEBOGEN 840 D Series comes with these standard features:

o Operating weight of 123,000 lbs.

o 264 HP Cummins diesel engine

o 25 kW magnet system

"The new SENNEBOGEN 835 and 840 D Series is a welcome addition to our green line of material handlers," says Lannes. "From the feedback we have received to date, these two machines will be very popular attractions at the ISRI show."

About SENNEBOGEN

SENNEBOGEN has been a leading name in the global material handling industry for more than 50 years. Based in Charlotte, North Carolina, SENNEBOGEN LLC offers a complete range of purpose-built machines to suit virtually any material handling application. A growing network of distributors supports SENNEBOGEN sales and service across the Americas, ensuring the highest standard of professional machine support and parts availability.

For more information on the full line of SENNEBOGEN green line material handlers, contact:

Constantino Lannes, President

SENNEBOGEN LLC

2835 Jeff Adams Dr., Charlotte, NC 28206

Call toll free: 1-877-309-0099 or fax (704) 347-8894

E-mail - sales@sennebogenllc.com

Visit the web site at www.sennebogen-na.com