Mate Precision Tooling to Exhibit New Marathon Plus(TM) Fully Guided Tooling System, Mate EasyView(TM) Slug Free Dies and Mate Xcel(TM) 3-½ Station Fully Guided Tooling for Thin Turret Stations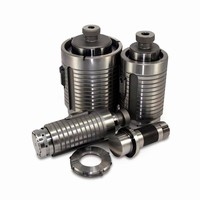 SEE MATE AT:

FABTECH, Las Vegas, Oct 6-8, 2008, Booth 5039
EuroBlech, Hanover, Germany, Oct 21-25, 2008, Hall 12 Booth D80

See At FABTECH 2008, See Demos At Booth 5039

Anoka, Minnesota: Mate Precision Tooling will exhibit the latest in tooling system technology at FABTECH INTERNATIONAL 2008, North America's largest fabricating, metal forming and welding event October 6 - 8 at the Las Vegas Convention Center, Las Vegas, Nevada.

New Mate Marathon Plus(TM) Fully Guided Tooling For Murata Wiedemann® Punch Presses
Mate's new Marathon Plus(TM) fully guided tooling system has all of the benefits of its original Marathon system plus click and turn external punch length adjustment. This minimizes downtime, increases adjustment accuracy, and eliminates the need for shims.

Marathon Plus features fully guided, longer lasting M2 high speed steel punches for exceptional edge quality and spring loaded strippers that hold sheets flatter. Full length guiding (top, middle and punch tip position) provides perfect tool alignment and stability. Punch holders are fully hardened and ground for maximum precision and long life.

Mate's Marathon Plus has many additional features including strippers that provide guided lateral support, self-locking stripper plate retention, built in lubrication vents for smooth, long life operation and Mate Slug Free® die geometry. Available for Vectrum, Motorum and Magnum 5000 presses in all stations XB through J.

New Mate EasyView(TM) Slug Free® Dies Provide Fast And Easy Tool Selection
Mate's new Thick Turret EasyView(TM) Slug Free® Die offering is the first tooling system designed with lean visual management technology. Using a colored O-ring designed to provide clear and instant identification, the new EasyView Slug Free design allows the user to assign visual identification to signify a specific feature or use of the tool. Examples include: material type, machine location, die clearance and more.

To use the EasyView Slug Free die system, the user simply installs a colored O-ring by identifying the assigned feature for that die. The O-ring is easily positioned in the special grove on the outside diameter of the die. In keeping with maximally efficient, lean visual tool management processes, the simple operation speeds up tool selection and set up.

Slug Free® dies eliminate slug pulling, a condition where the slug returns to the top of the sheet during the stripping portion of the punching cycle. Mate's Slug Free dies eliminate this problem, promoting improved piece part quality and increased tool life.

Mate Xcel(TM) Fully Guided Tooling For Strippit Punch Presses
Mate's expanded Xcel(TM) tooling system offering includes two new 3-½ inch station fully guided punch assemblies. Featuring fully guided strippers and premium high-speed steel slitting punch inserts, these new high performance tooling systems are designed for all Strippit punch presses.

Mate's Xcel Fully Guided tooling system, is the first true and fully guided tooling system for thin turret punch presses. The Xcel system is unique in that it guides the tip of the punch relative to the stripper AND guides the stripper relative to the punch guide assembly. The guide holds the stripper rigidly while the stripper guides the tip of the punch for high precision, fully guided punching performance.

Ensuring the fully guided performance are the precise clearances between punch and stripper - 0.0017 inch (0.04mm) and stripper and guide - 0.0006 inch (0.02mm). Only the Mate Xcel fully guided design provides these tight tolerances.

Mate's Xcel Fully Guided Tooling has many additional features including special steel options, push-button punch length adjustment, interchangeable punch drivers and exclusive Mate Slug Free® die geometry.

For more information on Mate's newest tooling systems, visit FABTECH 2008, Booth 5039, October 6 - 8, Las Vegas Convention Center, Las Vegas, Nevada, USA. Or call in USA and Canada 1-800-328-4492. Outside USA and Canada, call 1-763-421-0230.

Write to MATE PRECISION TOOLING,
1295 Lund Boulevard,
Anoka, Minnesota 55303.
USA and Canada, Fax 1-800-541-0285.
Outside USA and Canada Fax 1-763-421-0285.
Website: www.mate.com
Email: marketing@mate.com.

More from Electrical Equipment & Systems