Mate Precision Tooling to Demonstrate Punching, Bending and Laser Fabricating Solutions at FABTECH Mexico 2019, Booth 908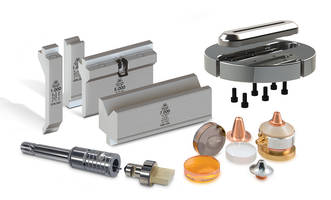 Anoka, Minnesota: The latest Mate tooling solutions are at FABTECH Mexico 2019 in Booth 908 May 7 – 9th. Mate sales engineers to demonstrate features and benefits of the full line of solutions from tooling for punching, bending and laser consumables.
Expanded Mate QCT™ Quick Change Tooling Line­­
Mate QCT™ tool-less punch retention system has been expanded to include QCT Metric™, AMX QCT™ for Amada air blow systems and MXT QCT™ for Wilson Series 90 systems. The QCT system is simple and intuitive to setup. Simply flip the durable latch to remove and snap the new insert into place without any additional tools.
Mate QCT Metric is fully compatible with Mate's Ultra® family of guides and canisters, Mate's Original Style guides, spring packs and Rapidset™ canisters. These punches are fully interchangeable with Amada NCT, NEX and Z-Tooling systems, as well as Wilson Thick Turret Metric punches. AMX QCT™ is fully compatible with Mate AMX™ guides, spring packs and Rapidset canisters, as well as Amada NCT, NEX and Z-Tooling air blow systems. MXC QCT punches are fully interchangeable with Wilson Series 90 systems.
Mate QCT punch inserts are made from M4PM™ tool steel, proven to be the most durable, longest lasting tool steel in the industry. Punch drivers are coated with SuperMax™, Mate's next generation coating to minimize wear and preserve fits.
New Mate American Precision Style Press Brake Tooling Featuring Groundbreaking Maglock™ Magnetic Safety System for Easier, Safer Punch Front Loading
Mate has expanded its press brake tooling line with a new American Precision Style system that is compatible with press brake laser and optical safety systems. Mate's American Precision Style press brake tooling is a full line of precision ground punches and dies. This system has the widest options available for common height punches and dies, along with an industry first option to purchase by the inch – just specify and buy the tooling length required for your design.
All Mate American Precision Style punches come standard with Mate's groundbreaking Maglock® magnetic safety system (patent-pending), which is simple, easy, reliable and safe. Maglock uses rare earth magnets to attach and seat the punch to the holder with no separation between the surfaces. With no protrusions, the tang simplicity makes Maglock-equipped punches ideal for front loading of tooling and enables installation of tooling backward or forward.
With the exclusive Maglock magnetic safety system and compatibility with a wide variety of existing holder systems, Mate anticipates that American Precision Style press brake tooling will become the fabricator's choice in the future.
New Mate Versadie HD™ Improves Slitting Thick Materials – Has Unique Design Features
Mate Versadie HD™ takes clamp clearing solutions to a new level with several unique design features. First, there is no need to replace the entire die with replaceable die inserts. Versadie inserts are designed to allow for the greatest lengths currently available in the industry, accommodating lengths up to 4.560" (115.82mm) for E Stations and 3.560" (90.42mm) for D Stations. With its tighter tolerances of the insert to the holder, Versadie has superior overall quality.
With all the benefits of the standard Versadie™, the new Versadie HD offers improved slitting in thicker materials that require more than 0.016" (0.406mm) total die clearance. The base incorporates a hat die feature to better withstand the punching of heavier materials. The die inserts are fully interchangeable with the standard Versadie.
For superior performance and longevity, all Versadie slitting die inserts are made from MPM82 tool steel. Designed for use in high performance tooling systems, MPM82 is a high speed, particle metallurgy steel intended to provide high value and exceptional versatility making perfect for slitting operations. For maximum longevity, the die body allows shimming after the insert is sharpened during routine maintenance. There's no need for special shims either; simply use standard thick turret die shims.
Mate Laser Technologies Expands With Over 500 Product Additions
Mate has added over 500 new laser accessory products reaffirming its commitment to the rapidly growing fiber and CO2 laser market. Newly included are fiber lenses, fiber windows, nozzles and accessories to ensure all customers get what they want when they need it. All- new, easy-to-use, OEM specific catalogs are also available.
For more information before the show, in USA and Canada call 1-800-328-4492. Outside USA and Canada, call 1-763-421-0230. Fax 1-800-541-0285. Outside USA and Canada, Fax 1-763-421-0285. Website: www.mate.com. Email: marketing@mate.com
MATE PRECISION TOOLING is located at 1295 Lund Boulevard, Anoka, Minnesota 55303.
Mate Precision Tooling
1295 Lund Boulevard
Anoka, Minnesota 55303
PH 1-800-328-4493. Fax: 1-800-541-0285
Website: www.mate.com
Email: marketing@mate.com
Anderson-Madison Advertising, Inc.
4600 West 77th Street, Suite 335
Edina, Minnesota 55435
PH 952-835-5133
Email: @andersonmadison.com
CONTACT: Gerald F. Madison
More from Fluid & Gas Flow Equipment