Mate Precision Tooling is Pressing Forward with Its Newest Tooling Solutions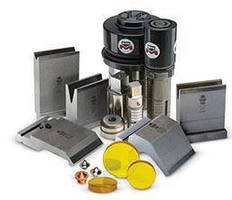 SEE MATE AT:



Fabtech 2014, Atlanta, GA, USA, Nov 11-13 Booth B3301



EuroBlech 2014, Hanover, Germany, Oct 21-25 Hall 12, Stand D80



Metalworking and CNC Machine Tool Show 2014 Shanghai, China, Nov 4-8



At FABTECH 2014, Booth 3301



See Mate's New Line Of Press Brake Tooling, Punch Press Tooling And Laser Consumable Products



Anoka, Minnesota: FABTECH 2014 begins at the Mate Precision Tooling exhibit at Booth 3301 in Atlanta, Georgia, November 11-13. See Mate's new line of Press Brake Tooling, Punch Press Tooling and Laser Consumable Products.



It's A First -- Mate Now Offers European Precision Style And Wila Trumpf Style Press Brake Tooling



Mate's new European and Wila Trumpf Style press brake tooling includes a full array of punches, dies, standard specials, specials and accessories, available in segmented, full-length and half-length sizes.



With a 52-year history of punch press tooling that lasts longer, Mate's press brake tooling is similarly manufactured from the finest tool steels with the wear surfaces of the punches and dies induction hardened for extra durability. Mate's new Press Brake Tooling is backed by the strongest guarantee in the industry: 100 percent satisfaction, no questions asked.



Available for immediate delivery, Mate's Press Brake Tooling has Mate's knowledgeable customer support from more than 30 sales engineers across North America plus support from Mate's responsive In-house customer service team.



Mate Versadie™



Mate's new Versadie™ insert slitting die takes clamp clearing solutions to a new level. It reduces material cost and waste for slitting operations by punching closely to the clamps, which is crucial when maximum sheet usage is required. This new type of die also allows users to replace die inserts without replacing the entire slitting die.



Mate Special Application and Special Shape Tooling

Mate's innovative support for forming applications and special shape tooling can be previewed and discussed at the show with Mate's sales engineers. Expanding the capabilities of the turret with Special Assemblies from Mate Precision Tooling has never been easier. Mate Special Assemblies are designed with high performance features for forming card guides, embosses, threadforms, hinges, and are guaranteed to work right out of the box.



Mate Consumables For CO2 and Fiber Lasers

For CO2 and Fiber laser system users, Mate continues as the industry's best single source. Products include high performance Peak, Black Magic™ and Performax CO2 lenses; fiber laser lenses, nozzles and mirrors; and CO2 laser nozzles and accessory products.



When fabricating projects demand new ways to work smarter, operate leaner and boost productivity, the Mate tooling professionals are PRESSING FORWARD to provide the most solutions. Mate is the only single source for all punch press, press brake tooling and laser consumable products with trusted support from sales engineers who have operated the same equipment used by their customers.



See it all at FABTECH 2014 and the Mate Precision Tooling exhibit, Booth 3301 in Atlanta, Georgia, November 11-13.



For more information, in USA and Canada call 1-800-328-4492. Outside USA and Canada, call 1-763-421-0230.



MATE PRECISION TOOLING, 1295 Lund Boulevard, Anoka, Minnesota 55303. USA and Canada, Fax 1-800-541-0285. Outside USA and Canada, Fax 1-763-421-0285. Website: www.mate.com. Email: marketing@mate.com.

More from Machinery & Machining Tools